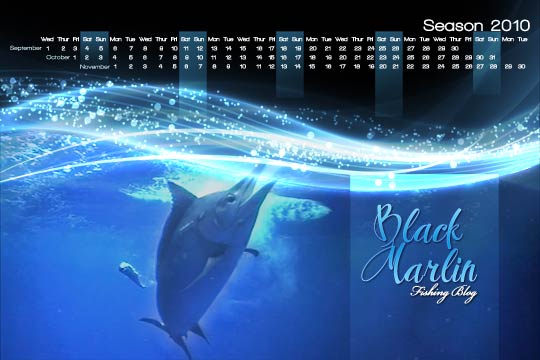 Another free desktop wallpaper, this second one celebrating the start of the giant black marlin season in Cairns to keep you inspired!
I created this latest wallpaper using 2009 Towcam footage with a calendar to see us through November. Look out for another wallpaper then.  If none of the below fit your screen, use your image editor to refine its dimensions or choose "Stretch to fit".
Read on for instructions and links for download.

For the iPhone – 320×400 screen resolution (no calendar)
For the computer – 1024×768,  1280×800, 1280×1024, 1366×768, 1440×900, 1680×1050, and 1920×1200.
Simply open the picture in the resolution of your choice and from your browser file menu, save it to your computer. Once the image is on your computer, right click and select "Set as wallpaper" (for PC users) or select "Set Desktop Picture" (for Mac users).
The wallpaper is free for personal use only. You may not re-distribute or use the wallpaper or the images it contains commercially. Thank you and enjoy!