This may be one of those days when I have to come back and update (Yes it is, updated now). I lost phone service when we slipped behind the reef last night, so I might have more when it comes back!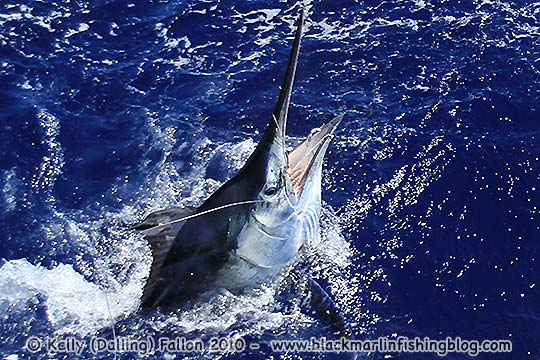 Picture of a fish for Leo on KEKOA Tuesday
Well if there was a right time to fire, this is that right time. T-minus 5 days until the Lizard Island Tournament kicks off (here's an article in the Cairns Post about the tournament). And fire it did, with reports from along the reef that I struggled to keep up with. Private boat Hattitude with owner Mike Dobbins on board, who are slowly making their way to the rock for this weekend, had a blinder releasing one that Mike put pretty close to the mark (Mike conservatively called it 900lb) and losing another big fish in the 800lb range! They also released one from three the day before at 300lb at the top of Number 5.
Another big fish has also been reported by the Dreamin' On team once again fishing down at Linden Bank at 800lbs. Congrats guys and thanks Simon for the reports!
Down at Lena Reef, on KEKOA we came out the opening at Number 1 from changeover in Cooktown and wandered down the reef to find Iona 2 hooked up on a big fish. We had time to catch a smaller one, all the while Capt. Adam was backing out to sea. Eventually the fish was weighed in at 385kg (870lb). Adam tells me they also released another smaller fish and had another big one up as well. Also fishing at Lena Reef and the lower Ribbons, Capt. Dan on Little Audrey added another two fish to their tally, keeping it consistent! Dan tells me they also missed a double header which would have made for a great day.
But back at the top, Shaka with Capt. Jared Weir and the blue Iona with Capt. Trent Visscher each had a great day playing with numbers – both going 3 from 6!