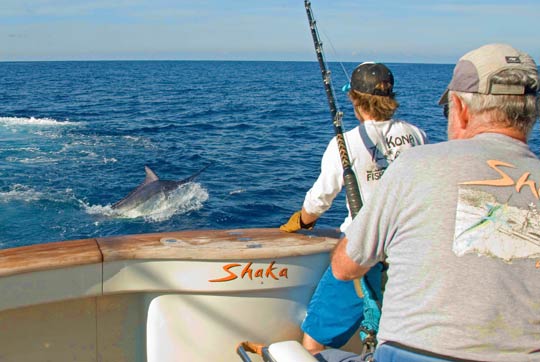 500lb-er for John on board Shaka yesterday.
News came through from Jye on Cool Runnings last night that owner John Clayden joined the Grander club with a fish that Capt. Troy Dallman put at well over the 1000lb mark at Linden Bank yesterday.  Congratulations to John, Troy, Jye and crew. Great going!  That marks the third grander in the past week as well as many other big fish. Little Audrey lost another yesterday that Capt. Dan thought would have nudged the mark as it chafed through the leader as they had the double on the rod.
I also heard from owner John on Shaka who we saw hooked up yesterday on one of the few fish at Number 10 Ribbon.  John says fishing has been improving recently and in the last 5 days they had 13 bites for 6 releases including this 500lb-er (picture above) for John yesterday.  Good going and thank you John for the picture!