Sorry for the slow start to the weekend. We've been catching bait in the internet black hole behind Lizard Island!
The Lizard Island Black Marlin Classic starts today. There are 24 boats competing this year and we are all but three happily gathered in the bays of the island now waiting for the sailpast to begin.  Fishing kicks off at 11am.  Keep your eye on the twitter feed for fish as they are called in.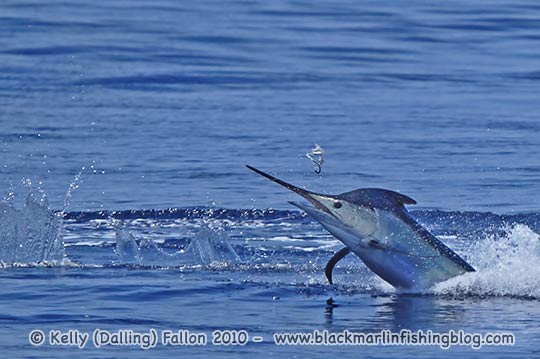 Yesterday was the calm before the storm so to speak. I snapped the picture above about lunch time before the wind and rain came through. You could visibly see the front approaching.  Some reports from up and down the reef from yesterday starting at the top, Tradition released a 500lb-er missed another big fish on Number 10.  Tim also sent this picture of Les's 900lb-er earlier in the week along too (below). Fishing down on Number 8, Shaka also had another good day with two for the day including this fish (photo below from John) for Geoff Shepherd.  As John says, Geoff comes from that well-known fishing destination Tuson, Arizona….so not surprisingly this fish marks his first marlin!  ;-)






I also heard from the boys on Askari who have finished up a successful week with Peter Clarke and his sons, Josh and Cameron on board (photo above). Here's a the video highlights of the trip.  In five days of heavy tackle they had five bites and tagged four, all between 300 and 450 pounds.  And Bat reports a bit of light and heavy tackle fishing in the one day with a nice 90lb sailfish off Nicholas and then chafing off a 400lb black marlin at Linden Bank.