If you were following the twitter feed, you will have seen it unfold in almost real time although there was a bit of a flurry around the 3:30pm when I found it hard to keep up.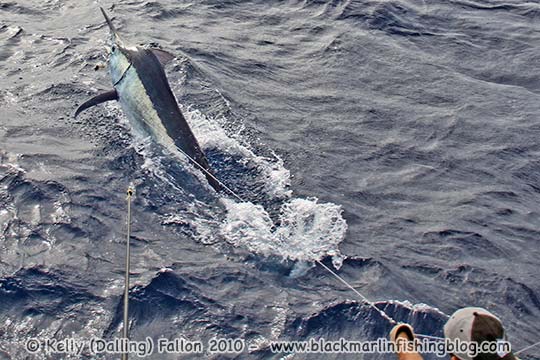 Tags going in on Brian's fish at 350lbs on KEKOA on day 1 of Lizard Island

On Day 1 of the 24th annual Lizard Island Black Marlin Classic, the tournament fleet made it through the first sked without any tags and although there had been a few false starts (hooked up, un-hooked). It was just on 2pm when the call came through from Calypso that the first fish was tagged for angler Andrew.  After that, the calls came in in dribs and drabs for the rest of the afternoon.
Viking II had the day of the tournament fleet releasing three including another big fish for angler Jim Wild, who is already a member of the Lizard Island 1000lb club from last year. They lead at the end of day 1 from Calypso, who followed up their first fish of the day with a second also for angler Andrew, and Jag, also on two tags for anglers Brett and Chris.
On one tag a piece are: Little Audrey with a fish for Ken Klein (on ya Ken!) who also had more chances pulling the hooks on another fish, Mistress for angler Jeff, KEKOA for angler Brian (we also went one from three), Ikey Moe with the day's only fish for a female angler, Gayle, and Castille III with the last fish of the day, a nice 500lb-er for Parke who also joined the 1000lb club last year.
Both Iona's missed fish and On Site fought one for a while before reporting fish lost.  12 fish for the day, and if I'm not mistaken, they were all caught on Number 10 Ribbon Reef.  The anchorage at the bottom of Number 10 was a mini Manhattan last night with towers lighting up the sky.  Looking forward to another good day today – oh weather gods, please be a bit kinder to us!
Outside the tournament Capt. Tim on Tradition reports slow fishing with a few seen on 8 by the boats there but none caught. They jumped a little one off.