Before I get into it, on a side note, check out this footage from Ben and his nine solo sails last week.  Awesome stuff!
Lizard Island Tournament: the photos belie just how rough it was, and the weather forecasting is for worse today!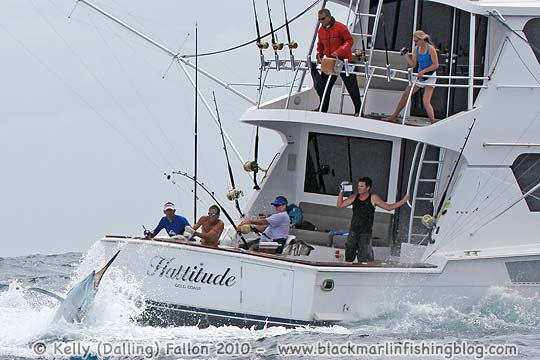 On Day 2 on KEKOA, we were lucky enough to hook up just 25 minutes after start fishing and after tagging an 850lb-er for angler Alex, managed to hold onto that lead for the rest of the day. We added two more for Brian at 300 and 130lb to make it three for the day. Some more big fish tagged with Viking adding another 900lb-er this time for Richard and Capt. Trent on Iona also releasing a 900lb-er for Peter later in the day (Deckie Brad sent me this photo of their fish-last thumbnail-it's a miniature photo but a great shot!).  Once again the bulk of the fish were caught on Number 10 Ribbon Reef with just the one fish tagged elsewhere, by Maitai on Hicks Reef.
Other action on Day 2: Top Shot added two tags at both ends of the scale, 80lb and 650lb.  Game Over had a quick start with one at 300lb near us also before the first sked.  On Site and Hattitude got their first points for the comp on Day 2.  Hattitude tagged this fish (big picture) at 350lbs and almost followed it with a second soon after, but unfortunately the hook pulled before they could get the tag in (you can see the hook come loose in the third photo above – click to enlarge.) In The Black hooked up again just minutes before cease fishing, but this time it stayed connected and they tagged a 250lb-er for angler Chris while most of the fleet had already begun their return to the anchorage. Another 12 fish on Day 2.
Current standings:

Viking II leads on count back from KEKOA both with 4 tags. Followed by Calypso, Jag and Top Shot all on 2 tags.  On one tag each are Little Audrey, Mistress, Ikey Moe, Castille III, Game Over, Maitai, On Site, Hattitude, Iona and In The Black.
Outside the competition just the one report from Capt. Tim Richardson on Tradition who keeps picking away nicely adding another 400lb-er to their releases on Monday.