Many boats headed to Cooktown for changeover after the tournament ended, while others such as ourselves changed over at the rock and headed straight out in search of the fish once again.  Unfortunately, the slow fishing that plagued the last couple of days of the tournament has continued.  Unless of course you were fishing at the right spot and on board Shaka!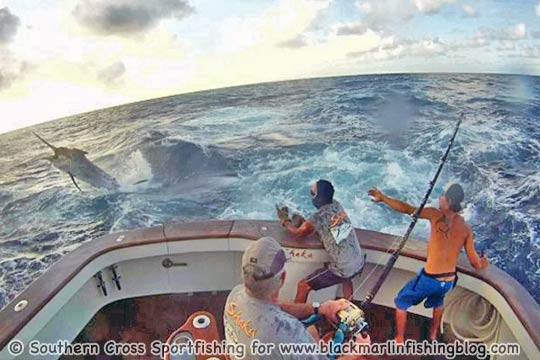 750lb-er on Shaka – notice the Stig on the wire? John says he's red hot!
John tells me that the dirty water, no fish and raging north current made their decision to truck down from Number 9 to the Ridge an easy one. Once they arrived, they picked up one at 450lb and then another at 750lb – two from two. Great going guys! Capt. Tim on Tradition did much the same thing and made the move to better pastures — and it almost paid off.  They jumped off a 600lb-er and saw a couple more.  The Dreamin' On team have been doing a mother-shipping trip with Sea Baby IV and Askari, fishing in the middle mostly up to Number 10 Ribbon and I heard that they've been doing quite well steering clear of the tournament fleet releasing nine in five days!
The Cairns Post also did a short story on Andrey's 1100lb-er from the Lizard Island tournament.
Away from the reef, I heard from private boat Barco on the Gold Coast.  Vince tells me they released a spearfish and a 600lb plus blue marlin on Saturday and on Sunday went one from three blues again.  Thanks Vince! Over in Exmouth, the Better Billfish Bonanza wound up with 31 black marlin and 33 sailfish releases.