This report probably couldn't top Friday's fishing but Dreamin' On was straight out of the blocks Saturday, like the day before, releasing two including an 700lb-er early in the day and following up with one about 500lb later on.  Askari also fishing from the mothership Emerald Lady released one Corey put at 850lbs for American angler Steve and Sea Baby IV with Capt. Chris 'Sharky' Miles also fought one in the 400lb range. I've been hearing whispers of some good fishing on Sea Baby, hopefully I'll have a chance to catch up with Sharky and find out more soon!
Back out from changeover in Cairns, Capt. Ashley Wallis on Kalira went straight back to where he left off releasing three from three for the day at 800, 600 and 400lbs.  Days don't get much better than that!  On the Bus Stop was Capt. Adam on Iona 2 with three from four around the 150lb mark.  Adam tells me they also missed a red hot fish, pulling the bait out of it three times!  (Another great Rhino shot below!) Fishing Opal Ridge down to Linden Bank, on KEKOA we went two from four marking Scooter's second ever marlin (350lb) and the Hass' smallest ever marlin (100lb).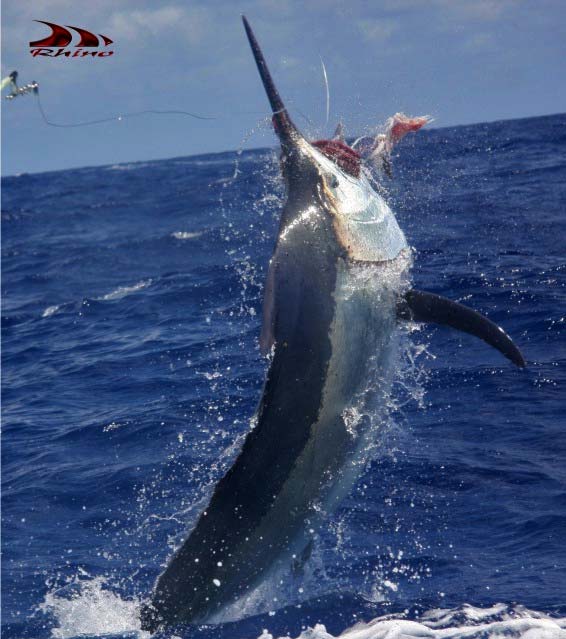 Cairns boat REELAX had a late start Saturday but managed to get out to the Bank at 330pm for the tide change and hooked one around the 500 mark at 5pm…but jumped it off after 10 minutes.
Down at Euston Light, Little Audrey has been bait fishing but popped out to put the baits in to marlin fish for a couple of hours and released a 250lb-er and Capt. Dan tells me Hot Shot with Capt. Ian "Wobbles" Ford were nearby and they released a smaller fish as well.
Up the reef on the Ribbons, I heard from Capt. Dan McCarthy on Moana III who started down this way the other day and released a small fish at Spur and briefly connected to another monster.  They also had a 950lb-er on the leader a couple of times but eventually lost it before heading in to Cooktown on changeover.  Dan reports seeing his third baby whale shark on the edge yesterday which is a bit unusual and I can let him know back that we also saw our third one last week. Dingo says he's seen six whale sharks on the edge in the last 13 years, and three of them have been this year!
Up at Number 10, Capt. Dean Beech on Castille III released a 500lb-er for GBR veteran Eddie Shi and Capt. Tim Richardson on Tradition started a new trip with one as well.  Well-known US anglers Candace and Jay Meyer and 50lb specialist Billy Boyle are fishing with Sparra on Square Bear and Hayden Bell on Release but I haven't heard how their trip is going just yet.