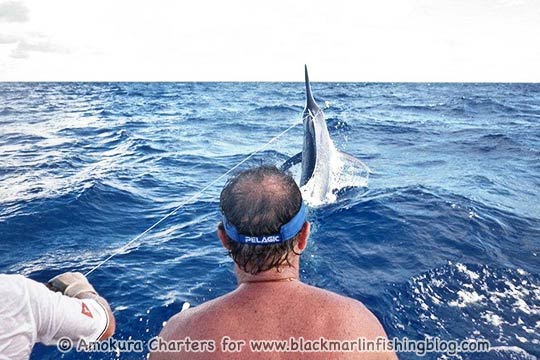 Plenty of small fish around for the fleet at the Bank yesterday with Calypso doing the best of them with two from three and Little Audrey nearby going one from three for first time American female angler Alex.  But it seems like the bigger fish were up the reef on Thursday.  Moana III released one from one at 650lbs at Number 3 Ribbon and word is that island boat Fascination released another 1000lb plus fish at 2nd corner on Number 10!
Speaking of granders, I know I missed another fish (or two!) this week — hopefully more details of that/those soon.  In the meantime, we'll call this one number 13.
And still on the topic of 1000lb fish, I received some photos from Steve Thomas on Amokura from angler John Howard's 1000lb-er earlier in the week (top) – thanks Steve and congrats again. And here is a short teaser clip from iFish's Paul Worsteling's fish on Calypso just prior to the Lizard Island competition.
If you're still hoping to make it to Cairns to fish this year, there's still time and plenty of big fish around (see the announcement below.)