The term has been thrown about a bit but Capt. Jared Weir used it again this week and it certainly is an accurate way to describe the Bank sometimes – where you go to watch other boats catch fish. On Sunday all the action was behind Amokura while the rest of the fleet watched. Spartacus was Monday's Amokura.  And, as far as I could tell, Hot Shot, with Capt. Ian "Wobbles" Ford, was Tuesday's Spartacus.  At least they were the only ones that we saw catch fish including this one (below riding down the wave with Dave Cassar on the leader).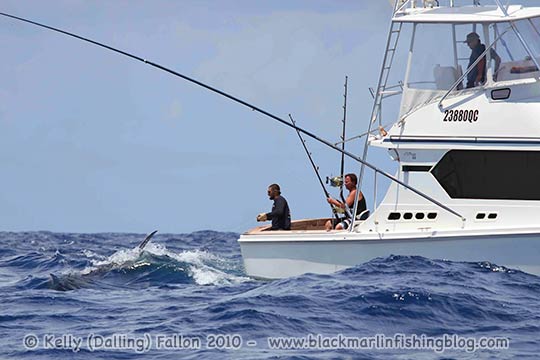 Ian tells me they ended up with three at 300, 500 and 900lbs.  Another good day! I took another shot of them on their bigger fish (bottom) but unfortunately we were just a bit too far away for it to be a better shot. Also fishing the Bank after spending some time in the Ribbons, Askari with Capt. Corey Hard released two yesterday as well.  Kim tells me they caught a double header with the first, a 200lb-er caught by Jeff, the second, a 450lb-er caught by PC.  Video on its way.
On the Ribbons but heading south, Capt. Dean Beech on Castille III released a real nice fish yesterday that he called very close to the mark almost immediately after putting the baits in at Number 3. What a way to start your day!
On KEKOA we saw but did not conquer.  We have 50lb stand up enthusiast Shigeshi Tanaka (AKA "Dougie") fishing with us this week with Capt. Barry "Cranky" Cross and Queensland's leading fishing writer John Mondura – who is often Dougie's personal photographer on these trips.  Dougie's been fishing the reef for 21 years chasing his dream of the illusive grander on 50lb line.  He's hasn't got it yet but in the many years he's been fishing with Barry, he's gone pretty close!
Another well known angler, light tackle specialist Mike Levitt is also fishing the reef again right now with his party on board Sea Baby IV and Calypso and the mothership Atlantic Princess.
This is the time to be fishing the reef – if you are thinking of making a last minute trip to the north this year, there is still some availability–>check here (new dates added).
Mission Beach Tournament Report
Thank you to Babara Leptig, Secretary of Mission Beach GFC, who sent this along.  Barbara reports they had many late withdrawals due to the weather (yes it was blowing again!) and only 8 boats fished the tournament.The billfish continued to be absent (only two sailfish were hooked and lost) but the game fish were biting. There were some big spanish mackerel, barracuda, yellowfin tuna and GTs caught over the two-day event. In total 52 game fish were weighed and 35 were tagged – a great result and everyone had a fantastic time.
The winning boat was the local 6.5m Tomahawk owned by the owners of 'The Tinnie Shack' at Mission Beach, Carla and Dean Grieve. Carla is a regular on the ABC radio Fish Talk program on Friday afternoons and was a popular winner of champion female angler. Their third angler Adam Peach took out champion overall angler.  Congratulations to all who competed!
The Port Douglas Marlin Challenge starts tomorrow and Joe Joe will be acting as radio boat (and competing of course) so I'll be sure to update on the fishing as much as I can on twitter.