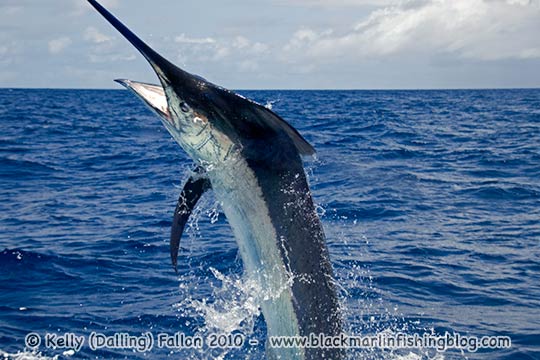 Wednesday started out very photogenic as the shot above shows but by late afternoon the clouds had rolled in once again and the rain started. Overnight we were treated to some spectacular lightening and thunderstorms and woke up facing the other direction on anchor on the pond-like lagoon of Opal Reef (main photo).
On the fishing side, the best for the day from reports was Capt. Ashley Wallis on Kalira who went three from four at 150, 300 and 550lbs by 5:30pm. They may have added another after that. We started well with an 800lb-er at lunchtime but the late bite failed to materialize. Nonetheless long-time KEKOA regular Steve and his two mates, brothers Troy and Leigh on their first trip Cairns black marlin fishing, had a great day with the fish giving some nice big jumps after the bite and on the leader for deckie Ben. Moana III with Capt. Dan McCarthy added a 500lb-er to their season tally as well.
Port Douglas Marlin Challenge
Champion Boat – Spartacus with 6 tags
Champion Angler – Ralph Czabayski 3 tags (aboard Spartacus)
Runner Up – Gorilla with 3 tags
Runner Up Angler – David Sweet 2 tags (aboard Spartacus)
Top 5 Placings: Spartacus, Gorilla, Calypso Mango, Reel Impression, Rat Bag
Overall there were 49 strikes for 26 hookups and 12 tags (marlin).  Significant catches included an estimated 1000lb black marlin for John Darrian's Calypso Mango for angler Matt Darrian. and Kyrenia and Reel Impressions who both tagged non-point scoring sailfish within a short time of each other on the last day.  Congrats to the teams on board Spartacus and Gorilla and to all who participated!  And thank you to Heff for the results!