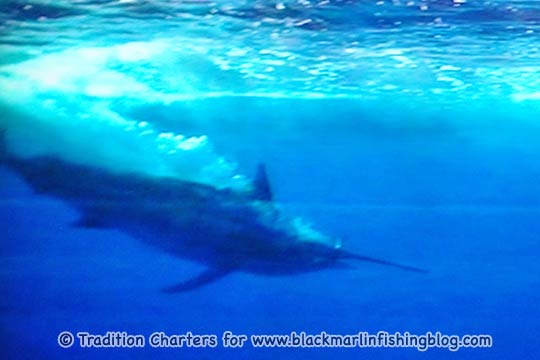 Another action pic, this time from the underwater bite from the TowCam from Capt. Tim Richardson on Tradition.  Capt. Tim started a new trip yesterday with another big fish, a 900lb-er for angler Dave.  Dave and his family are up fishing the reef from Canberra.
We went one from one on KEKOA yesterday for Rick once again before running into Cairn for changeover – that makes 7 fish in 5 days to 900lbs for the boys.  We've put together some more footage, this time from Brendan's (Tman) big fish from the day before. Plenty of big jumps on the leader.  Also at the Bank, Calypso got the late bite for a 300lb-er and Sharky on Sea Baby IV, still fishing ultra light tackle to today, tells me they raised three including the sea monster as well.

I'm still waiting for the official Port Douglas Marlin Challenge tournament results to come through but it might not be until tomorrow because there are some very sore heads this morning I hear (ahem, TNT!)  But I did hear from Capt. James "Jimbo" Bladin on Sparticus who took out the comp with six fish –  all small ones the biggest was only 300lb. The anglers were Ralph and Rolf Czabayski and David Sweet and crew was Dean Nichols and Chris Weeks. Jimbo also tells me that in the last 9 days fishing they have caught 12 fish – awesome stuff – but that wraps up their season now. See you next year!