After the stormy conditions of the day before we woke yesterday to the glamour November weather that we have all been long awaiting. A welcome reprieve!
The Port Douglas Marlin Challenge also hit a change of pace when Spartacus added three from four fish out wide on the hump to rocket them into first place.  Gorilla added another, catching the smaller one from a double header, in second place. Final day's fishing today.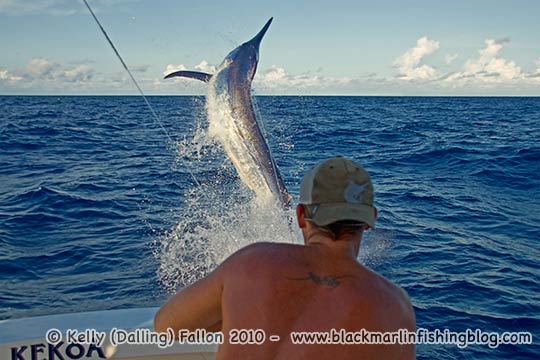 Outside of the tournament, on KEKOA we turned a fun-filled/accident-filled day into a top day on the water with 3 from 5.  Rick started out in the chair very briefly and ended up on the floor on 130lb stand up, eventually releasing the fish from the covering board.  Chair repairs later – and big thanks to Rick's engineering skills (hey you break it, you fix it!) – we were back in action with another smaller fish for Rick to bring him up to total of four for the trip now. Then another big one for the T-man piled on.  This fish started off as a double header to Rick's fish but coughed the bait up on the underwater camera. It stuck around throughout Rick's fight and was hungry enough to come back for seconds and after a sneaky bite on the scad, was hooked.  We got some awesome video footage so we'll put that up as soon as we can.  A great fish which gave Dingo the exact experience that every crewman dreams of on the leader: Tug. Of. War!
Nearby Capt. Trent on Iona put his guest onto another two to 600lbs.  Iceman going one from two as well.
The 2010 Season Photo Gallery is full of pics (almost 100 now) so I've started a second album. Be sure to check them out!