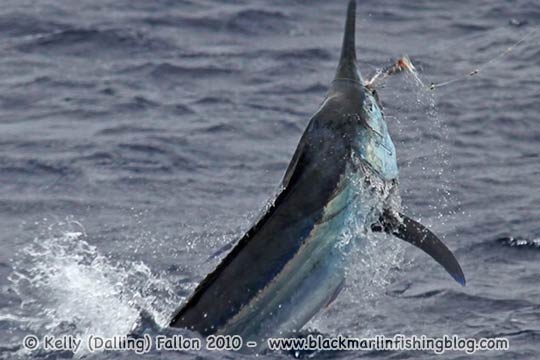 I heard from Barry Alty on Mistress who fought a monster before heading in to Cooktown yesterday.  Barry, who's seen his share of granders weighed and released, said that it made the average 1000-1200lb-er look positively small!  Barry says the fish didn't jump at all, but simply swam east and they had it to within a few feet of the boat before breaking it off on the leader.
Meanwhile at the bottom, a quieter day just when we thought that the wind from all the storms would whip them up.  Fishing in the same area all together, Iceman released a nice one in the 900lb range. Iona with Capt. Trent got one from two at 650lbs and on KEKOA we put Rick onto his second marlin (pictured) from two whole bites as well. Calypso, still fishing the light stuff, fought another good fish on 30lb getting some jumps out of it before breaking it off.  Amokura returned to Port and Capt. Jim returns to the Gold Coast today after a fishless final day. But after an awesome trip none-the-less.  Four fish in four days including three over 950lbs!  Capt. Chris' back to continue the good fishing this week.
The Port Douglas Marlin Challenge resumes today after a lay day Sunday.
Update: I just had a quick chat with Capt. Chris "Sharky" Miles on Sea Baby IV about his trip with light tackle specialist Mike Levitt to-date.  So far they have raised 16 (they raised five in the first three days over 800lbs!), a had several including one 950 and two in the 800lb range on. They've also seen another 3 real big ones including a monster on Onyx that ate their live rainbow runner, and then spat it back out again.