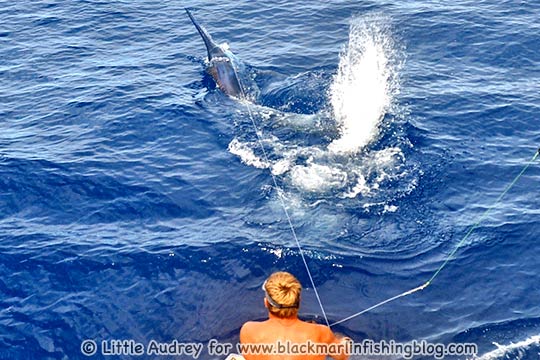 Yesterday Linden Bank reminded me a little of the car park at Port Stephens on those really glamour days. Flat calm and a heap of boats all circling the same spot. And right there in the middle was a floating log with a pod of dolphin fish which provided some light entertainment between marlin bites.
Fishing a little to the north, Little Audrey had a great day going four from five with two in the 600lb range and two in the 300lb range. The boys were kind enough to send along this picture (above) which shows us all, exactly how calm and clear it was.
At Spur, Moana III released a nice 700lb-er just after lunch before heading in later in the day on changeover.  And out wide on the hump spearfishing, Castille III raised an 800lb-er but couldn't switch her.
Back at the Bank and after circling the log for a nice dolly, on KEKOA we went two from three for Troy and Steve (photo thumbs above).  Hot Shot went one from four.  And Ian Harveyson fishing solo in his four and a half metre barra boat had two bites, unfortunately busting them both off.  But we're really looking forward to seeing him catch one!
I also heard from Shan on his 5.8m runabout Extreme who was also making the most of the awesome weather to get out amongst the bigger boats on the bank.  Shan had his bait all smashed up by the wahoo near the log and had to resort to lures for the troll home…and ended up going one from two on a double header at approximately 250lbs, unfortunately losing the larger fish (approx 700lbs) after dark..all solo!  Awesome stuff Shan!