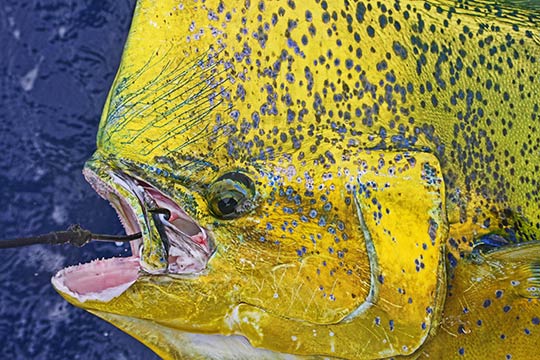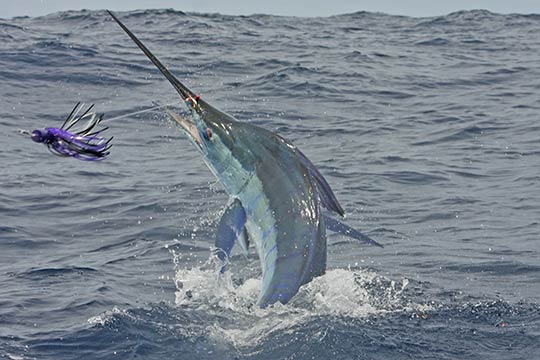 Rob "Smithy" Smith reports from the weekend's Hervey Bay Game Fishing Classic where he was fishing with his Sunshine Coast Club team on Matt Wallace's 36′ Riviera Fish Whisperer with David Granville on the sticks.  Rob reports that only one of each species of marlin were caught amongst the fleet of 19 competing boats.  The first fish of the tournament was a blue marlin for Wayne Finlay's 40′ White Cap Keneka, followed by a stripey for the team on Fish Whisperer (photo). Stubbie Holder, a 680 Haines got a juvenile black marlin and the eventual winner, White Horse II, a 20′ Pride got a sailfish plus associated field goals to win from Fish Whisperer on count back. Rob says that conditions were tough for the Saturday and Sunday of the tournament but good on the Friday.
Thanks Smithy for the report and to John Dwyer for the beautiful pics!
Kim has also uploaded some more video from on board Askari. Its a second highlight clip from the 14 day charter, showing the five marlin tagged and released on a single day between Sea Baby IV, Dreamin' On and Askari.
KEKOA is fishing this week with guests Mark, John, Breezy, Paul and Jen from the United States on the mothership Emerald Lady and I'm told everyone is having a wonderful time so far despite the weather.
I am spending the next four days in Cairns and rejoining the boys on board on Friday – hopefully reports will be as per usual in the meantime although I'm hearing that it has been a fair bit quieter the last couple of days. Hopefully the fishing will pick up again as we get further away from the moon.
I will have more to put up here later today.