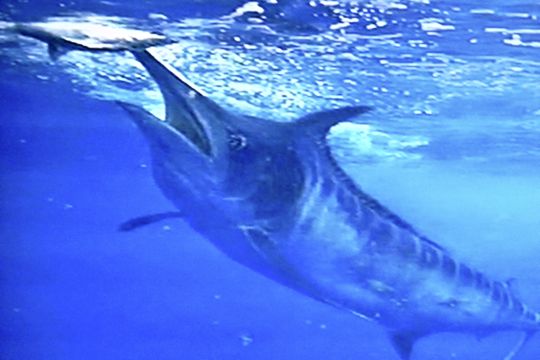 With many of the remaining fleet still fishing out wide, reports have been a bit harder to come by. Today on the other hand, 38 boats are fishing the annual Ladies Ribbons Tournament complete with radio skeds so hopefully there will be plenty to report. The sailpast kicks off at 7am.
Capt. Tim Richardson on Tradition has been one such boat spending some time out wide at Flora Reef, Holmes Reef and McDermott Bank.  The fishing for other species (dogtooth tuna and yellowfin) has been good but the marlin fishing limited to a 250lb-er earlier in the week.  Yesterday they had more luck with a 450lb black marlin earlier in the day, and then topped it off with another nice fish, this one (another great Towcam shot of the bite above) that Capt. Tim also put at over 1000lbs for his father, later in the day before heading back in to the edge for the night!
And another update that may devastate some, as it has the boys on my boat, word from Dr. Julian Pepperell that the 'baby marlin' from yesterday is in fact a ….. squirrel fish!  Julian tells us that the fish is a larval holocentrid. "And what's that, you ask? Well, believe it or not, a squirrel fish."  Dr  Jeff Leis at the Australian Museim explained that a lot of people think they are marlin since they have a rostrum, are sliver and blue and can occur pretty far offshore, and are fast, by the way (they have had some that swim faster than we can, and they leave us in the dust, so to speak). Dr. Jeff was kind enough to attach a picture of a typical one so we would know what they look like (below). Very un-marlin-like!  Thank you to Dr. Julian and Dr. Jeff.  And a timely congratulations perhaps to Dr. Julian for his induction into the Cairns Game Fishing Hall of Fame last weekend!