I'm happy to announce that Cresta Motor Yachts Australia have launched their brand new website. If you have the time to visit, its well worth a look through!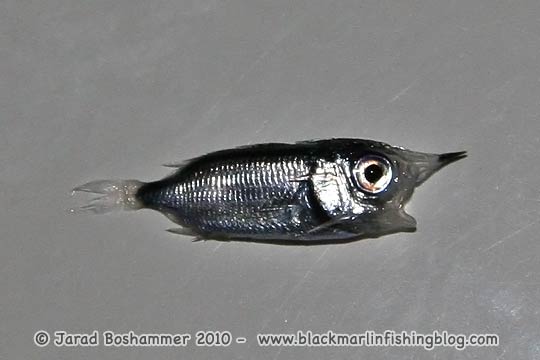 We finished up our trip yesterday on a high note adding another marlin to our tally making that 6 in 6 days to 850lbs – four blacks and two blues.  As it so happens, we trolled lures all day Wednesday hoping for a blue marlin (because there have been some around) and got two blacks instead.  Yesterday we trolled baits for a black marlin and got Scotty's second blue marlin for the trip!
The main photo is another novelty that the boys discovered when we were squid fishing behind the boat the other night.  In a bucket of water for the squid, this little fella, which we can only assume is a baby marlin (Dr. Julian?), was swimming around at speed in the bucket.  Dingo says it was less than a centimeter long and though you can't see it in the photo, had its dorsal up when it was swimming around and was quite translucent at the tip and the base of the bill. They ended up getting three and had them merrily swimming around for some time. So Capt. Luke is claiming we caught four marlin that day.  Of course I slept through it all!
The briefing for the Ladies Ribbons Tournament is tonight and we're looking forward to catching up with the remaining fleet who are fishing. Its a little lonely here at the Marlin Marina now that boats have started to leave town.