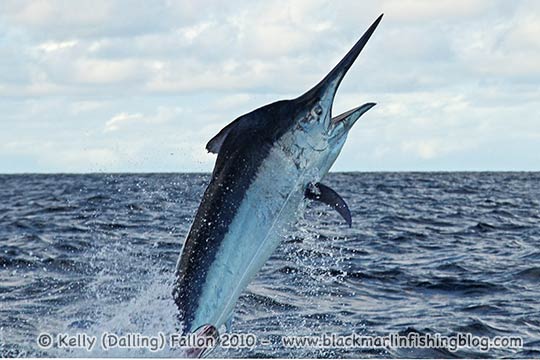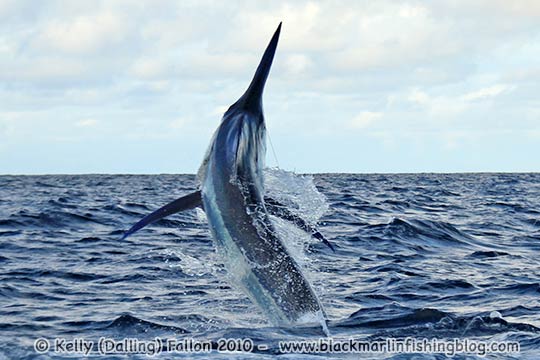 In our big trip wide on KEKOA we've caught a lot of everything, as well as marlin (four blacks and a blue), including this one above on dusk last night at 850lbs for Jason – which was a really stubborn fish and gave him a tough time for the almost hour and a half it took to get her to the back of the boat. Jason managed to get the peg mark onto the rod several times, but each time she managed to take it back again. The last time, he wasn't going to give in, taking it bit by bit, half turn by half turn, until finally we had her at the back of the boat so that Dingo could retrieve his Oskie Rice made lure (I won't even tell you what happened to another of his most precious lures!) at the side of the boat for the release.
We've been trolling lures not only to cover a lot of ground but because there have been good number of blue marlin seen on the tuna aggregations this year.  Capt. Tim Dean on Calypso had 8 bites in three days and most of those were blues.  I heard that Capt. Brad Craft on Reelistic broke the line on an estimated 800lb blue on the way back in on Tuesday and caught at least one more.  We got a feisty little blue for Scotty as well.
Speaking of blue marlin, Capt. Daniel Carlson on Little Audrey who have finished their northern season and are almost half way back to Sydney, had some great blue marlin fishing at Cape Moreton on the way through going four from five on Tuesday at 450, 300, 200 and 150lbs.  Dan told me that 3 were caught on the 130s and the other on 50lb and that he even had to climb down from the tower to catch one!  Hopefully they hang around a bit longer for when we are finished up here!
But the black marlin fishing isn't over yet.  Capt. Daniel McCarthy on Moana III tells me they caught two at 300 and 350lbs on their run out wide as well as a big dolly and a couple of yellowfin around 65kg.
We really get to see some awesome sights fishing on the Great Barrier Reef and beyond. And the last few days, taking advantage of a run of well-deserved good weather for a change, we got to see a whole lot more of it out further afield.  We spent the first two nights at Flora Reef, which is over 100 miles off shore.  The water is so clear out there that you can see the wave patterns in the sand under 8 metres of water under the boat at night in the transom lights.  Tuesday, the weather was so good, we spent the night on the drift out on the tuna aggregation with just Capt. Tim Dean on Calypso and a couple of long liners for company (and a bunch of squid in the transom lights overnight as well.)
While the tuna aggregations were a bit harder to find this year, once we found them, we had a ball with the big yellowfins. There have also been a lot of wahoo and dolphin fish still (no whale sharks this year although we did see whales.)
Many of the fleet have now fished their seasons for 2010 and so reports may start to taper off. We're still up here and fishing through to December 10 (with a few days off in between).  It's Scotty's last day today and we are back out again on Saturday for the Ladies Ribbons Tournament.