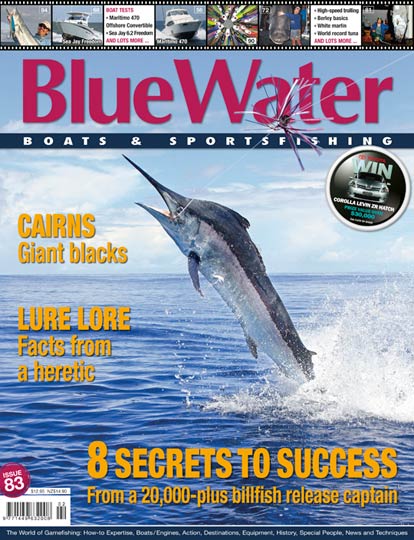 Kelly's first magazine covershot – BlueWater Issue 83 on sale Jan 5
Just when we thought it was all over for black marlin, I had a report from Askari owner Shane who tells me that Corey has arrived on the Gold Coast after the trip down and had some good….black marlin fishing off Lady Musgrave. No blues, just blacks.  They fished 5 days out of the island and finished with a 300lb, 500lbs, 800lb and one that they put at well over the mark!  Interestingly the blue bite seems to have slowed over the past few days but, blues are like that – they'll be back.  In SEQ it seems like they have been catching them all the way through to the edge off the Gold Coast.  Glen Booth told me a similar tale off Coffs, its seems like a temporary lull down there as well.  With the 26 degree water and good south current, Capt. Luke assures me they'll be back. (Glen says the water was 28 degrees and purpley blue outside 60 fathoms, pumping hard to the south at three knots off Coffs).
Capt. Jim was telling me about a report on Big Fish with Scott Levi about fishing in Gove and their recent XXXX GOLD Gove Game Classic (Dec 1 – 6).  Apparently for the first time black marlin numbers seen have almost equaled sailfish (previously almost a 100% sailfishery) and he knows of two instances of black marlin jumping into boats in the last week or so. The first guys were floating a pilchard out from the back of their tinny in 4m of water when a 60kg marlin had a go at it and ended up in their boat instead.  The second one, the guys were bottom fishing when a very excited marlin chasing live bait also ended up in their boat!  Who needs hooks?!
The tournament results were, 24 teams and 83 anglers tagging 47 sails and 13 marlin.  This highlights a recent topic of conversation among the North Queensland fleet about where all the baby marlin have gone this year.  Maybe they turned left (west).
BlueWater Issue 83 – On Sale Jan 5
Featuring the 2010 Cairns season recap – it's not out for a little while yet but put this magazine on your wish list. I'm pretty excited about it myself, not only because of the feature, but because this is my first cover.  Picture taken on a gorgeous, flat calm day late in season 2010 on board KEKOA of a fish for Glen, Tasmania's best publican.  Other features include 'They Call The Shots' with Capt. Brad Philipps, Glen Booth's 'A day to remember', Dr. Julian Pepperell explains what makes the white marlin so special and a product review of the new and highly talked about fast trolling Sebile Lures.