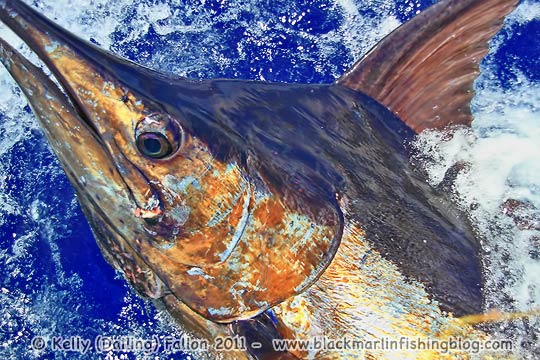 A few more fish are starting to show up in the south east.  Local Gold Coast boats are reporting a few mid-sized blacks in close, while on KEKOA, we ventured out wider today to join Lucky Strike and Barco on the edge.  There was plenty of life, including very playful dolphins that did not leave us alone for the entire day, but the marlin bite was early. We went 1 from 2 for visiting Canadian angler Doug at 300lb. This fella has used up at least two of his nine cat lives as we removed our lure hooks, we also removed a long line hook (and trace) from the other corner of his jaw.  Typical blue marlin, he jumped all over the ocean for us.  Capt. Ross on Lucky Strike had a few bites as well including one from a nice sized blue, and further down south, another blue was released just after lunch.  Barco has been out over the Christmas break and having a ball by the sounds. Although their mojo was not on board today, they've been doing pretty good on the blues (and a stripe) themselves!
Up at Cape Moreton, lens man David Granville on board Megumi with Ken Brown released a blue and a strip and on the Sunshine Coast wide, Ymer went two from three blues as well.
Nothing red hot, but steady, steady and looking good!
Down at Bermagui, I noticed that Hot Shot got their first marlin of the season last week as well. Capt. Ian says they've seen a few but that's the only one to eat so far. Hopefully the bait turns up with the some fish soon!