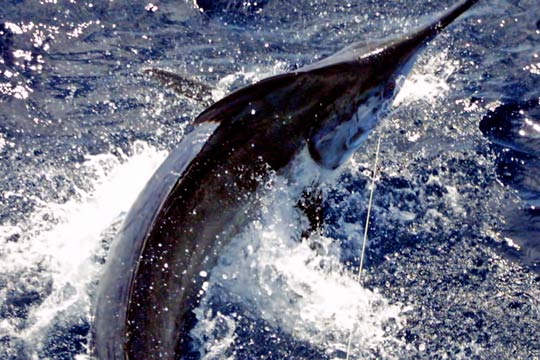 A few updates this morning from up and down. Thanks so much for sending these in guys – especially as I have nothing to add from the Gold Coast yesterday! The blues staged another disappearing act and we had to be content with wahoo and dollies instead.
On the Sunshine Coast it was another great *morning* on the water for Jeff Oats yesterday.  While we were getting comprehensively rained on once again here (lucky we're in a boat I say!), Jeff was enjoying a quick morning session off Mooloolaba. In his 15ft centre console Simple Plan, Jeff released 3 sailfish and boated two wahoo and two dolphin fish – and he was home again by 10.30am!  If this continues and the blacks show up in numbers it will be a good tournament for them next month!
Further south, Editorial Both (Glen) sent me this update from his base at Coffs Harbour:
There's been a few blues and the odd striped marlin around, but keeping them attached has proven difficult. Dark Side got comprehensively destroyed by a blue on 24 kilo, and there have been enough jellybean yellowfin and big dollies to keep boredom at bay. One yellowfin was a slightly better specimen at 24 kilos.

South West Rocks fired up for a couple of days last week, with some nice second year blacks being caught at the usual inshore marks. Bait is thickest it's been in over five years.

Out wide here, the current is still running a banker, but it's blue and warm — 25 degrees plus.

Spanish and spotties have put in an early appearance at Coffs and Grassy Head, but now its pouring so they'll probably disappear just as quickly as they arrived.

The Golden Lure comp starts at Port Macquarie this weekend, and the fledgling Solitary Islands Game Fishing Club is fielding a team of six boats in its first venture into the big league.
And, down off Port Stephens, Brent tells me that the fishing has started to to pick up with 23 degree water in close which is full of bait. The shelf is around 25 degrees but the current is still running at 3 knots. Even so there are a few stripes and a couple of nice blues to 400lb, and there was even a couple of whaoo caught during the week!
Thanks again guys!