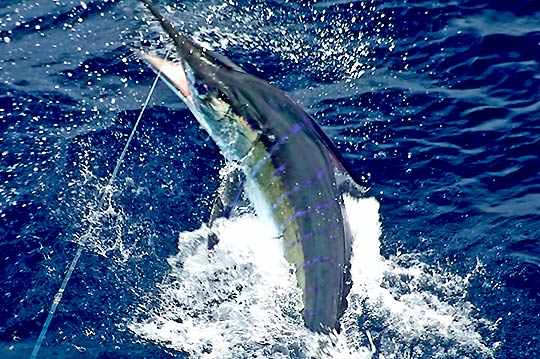 Some exciting striped marlin action is being reported from the waters around the Shoalhaven area.  Craig Murphy tells me that most boats have been getting 5-10 shots a day from stripies.  A few blacks have also shown up on the Banks with one boat loosing an estimated 500lb black after four hours on 50lb gear.  Craig reports that most of the fish have been north of Jervis Bay, but Mayhem, fishing at the Ulladulla Canyons (Ulladulla GFC) tagged 5 yesterday as well.
Anthony Dimech also had a great day fishing on board Josh wide of Jervis Bay yesterday (Saturday) as well with three from four stripes – two from two on baits and 1 from two on lures.
In the leadup to the Tolgate Island Classic next weekend, Batemans Bay GFC are also reporting some multiple releases amongst their club members fishing this weekend.   It's hotting up!
Meanwhile, the Port Macquarie Golden Lure is underway and I heard that they had some pretty trying conditions weather-wise on Day one with three marlin recorded from amongst the 28 competing teams – a blue, black and stripe.
Updated: Brendan sent me a note to tell me about Lone Wolf, a Tasmanian boat now based in Port Stephens, who have been having some joy at South West Rocks over the last few days.  They finished with three black marlin to 70kg and three dolphin fish, the largest 20kg for 9 year old angler Nathan.  Nathan and his fishing partner Corey (also 9) shared the spoils of the trip with a marlin and dolphin fish each!   I sense two budding fishing careers in the making…! (Photo below.)