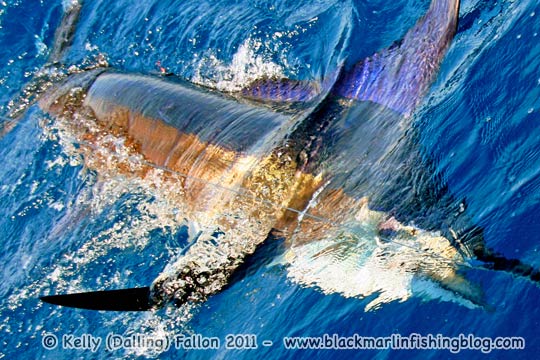 BATEMANS BAY: Craig Murphy sent me an update from Tollgates Tournament on the South Coast over the weekend. Craig reports that Day 1 fishing on Friday was challenging for the smaller boats with 20-25knots from the North East.  Gary Cairns' 43 Cabo Apothecary (yep, Gary is a chemist!) tagged three striped marlin to race to the lead, followed by Don Goswell (NSWGFA President) in his 1970's Hatteras, Freedom, with two striped marlin.  There were a few boats on one fish for the day.  On board his 40' Caribbean Dadsboat, Craig's team also enjoyed some good action seeing 7 and but only tagging 1 on lures (damn finicky stripes).Saturday dawned a glamour day with the wind not getting up to 10 knots all day but the fishing was a little quieter.  Most fish were caught to the North of Batemans Bay between the Brush Island Canyons and the Northern Boundary at Cape St George (Jervis Bay).  Paul Blacka's 36 BlackWatch, Mr Hooker (yep………real estate agent!) tagged three for the day, two to juniors and one to a small fry, to join the leaders Apothecary who didn't see a fish for the day.  Dadsboat again only tagged one from two bites, managing to tease and switch the fish as the weather was a lot kinder!  They also hooked and lost a 200+kg mako on mono and a circle after the greedy bugger nabbed a live slimey.

On Sunday Dadsboat switched a stripe within the first ten minutes of fishing and tagged it about 20 minutes later putting them on three fish too.  It was a tense day for the leaders all fishing the same water, watching intently what the other was doing.  Dadsboat missed a bite before lunch and then watched Mr Hooker chase a hot fish around the ocean only to have it fall off before the tag shot.  Finally, Mr Hooker broke the stalemate tagging their fourth stripe half an hour before cease fishing.

On the capture side, Team Dominator got a blue marlin and Angie 2 a stripe on the final day. There was also a 96kg stripe on Day 1.

Overall Craig reports the hot bite they saw last week has slowed a fair bit.  There is some nice bait stacking up on the edge and the water is pretty patchy but still holding fish.  The tide is running downhill at about 1 knot.  Thanks Craig!

GOLD COAST: Despite the weather during the Gold Coast GFC Light Tackle Masters being not as good as hoped, 16 boats competed over three days of fishing, with Amigo coming in as Champion Boat for the overall competition with two blues from Mistress and Ocean Dream respectively.  Kevin Ballantine on Amigo was Champion Angler with both blues.There were two possible Australian Records caught by club secretary Alisa Schofield fishing on board Mistress (go Alisa!) including a short nosed spearfish (15kg on 8kg) and a 16kg dolphin fish (also on 8k)g. Alisa also tagged another 4 dollies, a yellowfin and wahoo to take out Champion Female.  Also congratulations and commiserations go out to junior angler Alexander Berry on board Kingsley Young's boat Cabolero for his exceptional effort in capturing a 145kg blue marlin in a 3 hour 10 min fight.  Unfortunately during capture the fish was cut by the propellers and disqualified, but what an outstanding effort on 8kg line.

Thanks Barry and Alisa!

BERMAGUI: I heard from Dave Cassar on Slammer who has his Captains hat back on and it raring to get back out on the water this week.  Dave says that the fish are there and that all three boats fishing Tuross Canyon had fish up (one went 6-3-1 on stripes) and on Slammer they also had a bite out of a 500lb blue last week.

PORT STEPHENS:

Capt. Tim Dean on Calypso reports that the water is hot and running hard to the south. The fishing has been tough but the bait has shown up now.  Craig also told me that Andrew Tonini, owner of 45 Rampage Grommet fished Sunday well wide and tagged a nice blue 150-180kg.
PORT MACQUARIE: Still waiting for the final report from the Golden Lure although I hear the entire week was a battle with the weather.