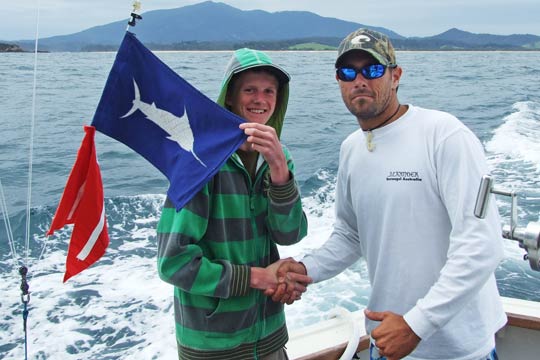 Some quick reports have come in including one from Capt. Dave Cassar on Slammer who inducted another newbie into the marlin club Tuesday with a striped marlin for 14 year old angler William Cook on Tuross Canyon off Bermagui (picture).  Congrats William – look forward to a lifetime of addition!
Meanwhile on the Gold Coast, the blue marlin showed their finicky nature after the team USA on Dreamin' On added four more to their Australian marlin tally going four from six blues on Monday…by staging a temporary disappearing act Tuesday.  The boys caught two good sized tuna but were zero for martians.  They're heading back out to try again today.  Capt. Ross McCubbin on Lucky Strike was a bit luckier with a 300lb (140kg) blue on 24kg not long after putting his lines in on the spot.  He also got three nice dolphin fish for his guests.
And Strikezone guru Al McGlashan's been getting his feet wet too swimming with all sorts of critters of late and getting some great half-in/half-out shots.  Last week he added some pictures from a recent trip to Jervis Bay and was kind enough to send them along to share.  Absolutely gorgeous! Al tells me he plans to jump in with a big black up north this year. Can't wait to see those shots too!
[nggallery id=15]