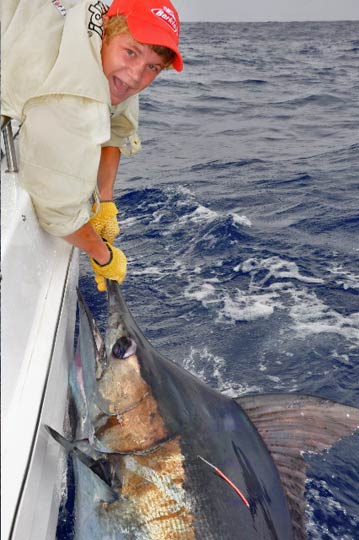 Greetings from Cairns!
The blue marlin bite continues off Coffs Harbour although Rick reports that the EAC (East Australian Current) seems to have gone AWOL in the past two weeks. Solitary Islands GFC club boats fishing their monthly comp on Saturday fount no current, but clean and blue water and a continued good bite on the edge.

Foreign Exchange had its first blue marlin tagged and released by 10:30am, with the 150kg fish going to Wanda Fenner, the club's first female angler to release a marlin this season. Other boats started to pick up the pace with being raised regularly in around 100 fathoms although Wylcatchem also found two blues out in 500 fathoms as well.

SIGFC boats ended with 7 from 13 which also marked a bit day for some newcomers to the sport. Young Matt McEwan, tagged his first marlin on Wicked Weasel on his second day game fishing (main picture – thanks Glen!).  Matt was fishing alongside another newcomer Brent Stuart who has recorded a blue marlin, a black marlin and a wahoo now on his first three outings.

With the blue marlin bite still on the boil off the Coffs Coast, the club's inaugural State of Origin tournament on the first weekend of April looks set to produce some great fishing for both the local boats, and those coming down from Queensland to participate.

Speaking of upcoming tournaments, just a reminder that Moreton Bay's Back to Tanga 2 is on next weekend, March 26/27.
On the Gold Coast there are still a few blues around as well.  Owner Mark Ripper released a 300lb blue marlin on board Castille III on Saturday going one from three.
From hero to zero at Port yesterday – hopefully the boys get stuck back into them again today.
Lastly some photos from Capt. Tim Richardson who's fishing off St. Lucia in the Caribbean.  You'll remember from last week's report that Capt. Tim and team on Ambush went a very impressive 10 from 14 blue marlin last Monday fishing around the fads with the fish all in the 250-400lb range.  Tim sent some pictures of the crew on board Ambush after their big day as well as on anchor off the island with the mothership the OLGA – not a bad place to be!