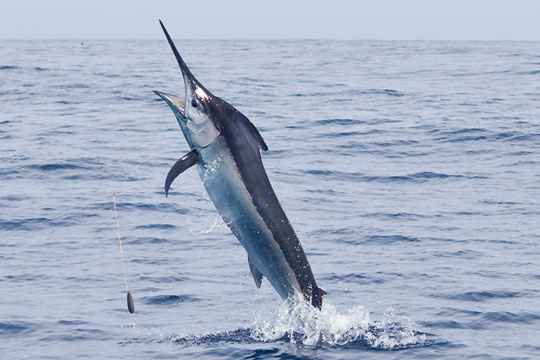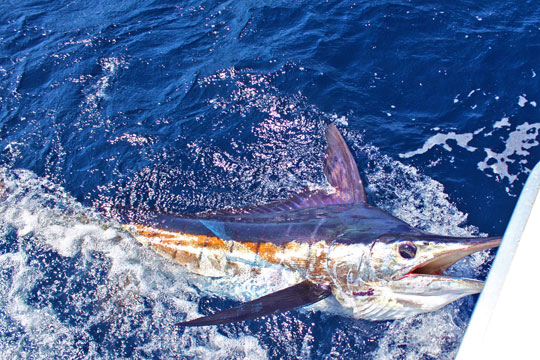 Andy sent me some photos (above and below) from on board Frito 1 at Port Stephens during the tournament season, quite fitting considering the hot fishing there again over the past week. Loving these photos – thanks Andy! While it was too rough for many on the weekend to make it to the shelf, I heard that Capt. Corey Hard on Askari followed up from their top day Friday (10 marlin tagged!) with another 5 yesterday. Update: Askari's owner Shane tells me Friday's fish were 9 striped marlin and one black marlin. Yesterday (Sunday) he took his nephew Josh out hoping to catch him his first marlin, and ended up catching him his first three!!  A great start to his marlin fishing no doubt. They ended up with 5 from 5, all stripies.
Shane says there were some good celebrations – Port Vegas – over the weekend. Congrats to all!
Likewise, it's been rough in the SEQ but the Back to Tanga2 went ahead taking advantage of the recent good fishing as well. Hopefully a full report later, but I did hear that the Mooloolaba GFC team of Nathan Douglass and Mick Wrack fishing on board their 35 Bertram Luna (skippered by Wayne Douglass) came away with a back to back win, with Champion Boat over 7m, Champion Team Overall, Champion Billfish Angler and Runner-up Angler Overall with 2 sailfish and 3 black marlin as well as other assorted wahoo and tuna. Big congrats guys!
[nggallery id=19]