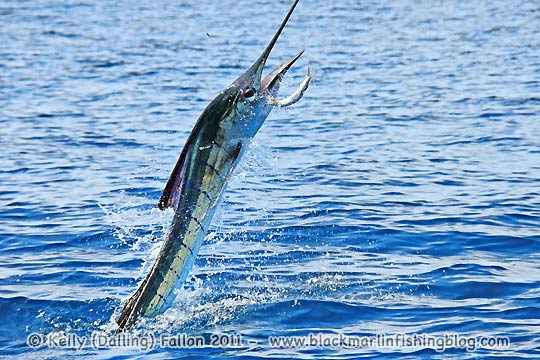 Some more updates from the great fishing being reported over the past few days and weeks.  Most notably, Capt. Tim Dean on Calypso finishing up his trip yesterday at Port Stephens with 20 marlin.  He added another grand slam yesterday as well.  The fishing has fired, back on the edge, and looks to continue for boats fishing into April.
On the Sunshine Coast, more little blacks and sailfish. Ross Martin tells me there has been some more good action in the last few days.  On board local Sunny Coast boat Askari, they released 3 sails and a black while Walk The Line released 3 sails Thursday and Ymer went 3 from 5 yesterday – two black marlin and one sailfish.
Speaking of sails, there have been a few caught by the local sportfishing fleet out of Weipa in the past few years. We got this one on KEKOA yesterday (picture top). Hopefully while we're over here this year chasing the barra we'll be able to devote a some time to chasing them. I know that Ben "Notso" Bright, back now from Port Stephens for the local season with Fish and the boys (Fish's Fly & Sportfishing) will be giving them a run when the opportunity arises.
Grant sent me some more great pictures from Cjig and their blue marlin in the past few days – including this action shot of a blue marlin on the go! Thanks Grant!