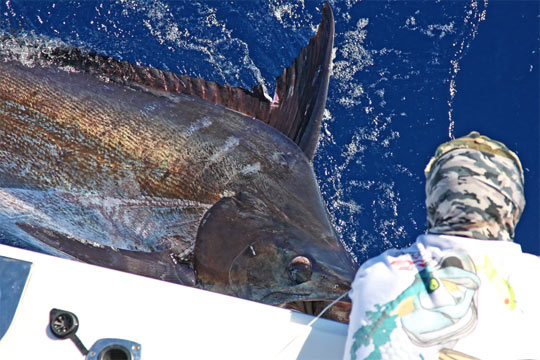 Blue Marlin on the Gold Coast: Grant sent me this photo of Peter McLeod's fish on board Cjig on Wednesday.  Peter made the brave decision to go fishing on his wedding anniversary but I hear all was forgiven when his wife saw the picture of his fish. Great fish Peter and congrats to you both!
Cjig headed out to the same area again yesterday and came home with another 2 from 3 in the same area.
Updated: Andrew sent me a report from yesterday on the Gold Coast as well from on board Larva, who also went two from three.  Andrew reports the two fish were round 3-350lb mark and the third that got away, a much bigger fish in the 600-700lb range.  It was an early bite with all three before 9:30am and the picture below is of Daniel Burke's first blue marlin – congratulations Daniel!
Port Stephens Stripes: the shelf has started to fire again.  Some great fishing was enjoyed out wide despite the not-so-friendly weather conditions yesterday with Calypso releasing 12!
Ben "Nosto" Bright returns to the relatively calmer conditions of the Gulf today after spending much of the Port Stephens season with Capt. Scott Thorington and young deckie Jay on board Flying Fisher. During his time on board with the guys they released 73 from 102 in 38 days fishing including a grand slam, and days of 10, 8 and 7.