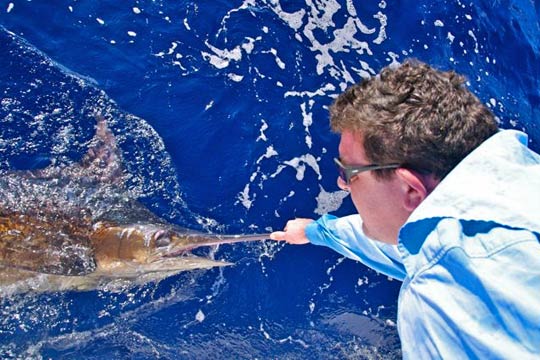 Ocean Tech Tackle's Warren Woodley & Foreign Exchange's first blue of the tournament
The Solitary Islands GFC had their inaugural Heavy Tackle Challenge this past weekend off the Coffs Coast, and despite a southerly late in the week keeping the Queensland boats away, there were anglers from various NSW clubs who came to join the first run of this event and help make it a great success.
The marlin were scattered between the continental shelf and about 2000 fathoms in perfect weather on Saturday, and Rick O'Ferrall's Foreign Exchange had the first blue tagged by 9:30am, followed shortly after that by the club president, Sultan Linjawi tagging another blue on Triton. Large numbers of wahoo, big mahi-mahi to 20+kg and some excellent yellowfin tuna to 50kg kept a flow of points going up on the scoreboard. The blue marlin were being pretty skittish, and despite frequent calls of hits, there were only a few solid hookups, although even most of those didn't result in a tagged fish.
Another southerly rolled up the coast on Saturday evening and Sunday's conditions were pretty boisterous when fishing started again. Typically for blue marlin, there were more fish raised in the rough water on Sunday than in the calm conditions of Saturday, and the tournament lead changed several times as the final day wore on. Foreign Exchange had a tournament leading blue marlin hooked early again, only to have the line guillotined by a wahoo. The lead switched to Norm Dark's Darkside when they tagged a blue marlin in 1700 fathoms, and then the action moved into the shelf with more blues tagged in water as shallow as 55 fathoms. By mid afternoon, Alcatraz had found a lot of activity back out in 400 fathoms and started raising striped marlin. With the end of the tournament in sight, the big Shimano boat Triton moved in on the stripes, and after a lot of work keeping one very fussy striped marlin interested in the spread, they finally hooked it up and tagged the fish.
In the end, the winning margin was that critical last minute striped marlin for Champion Boat Triton, with crew Sultan Linjawi taking out Champion Male Angler – with all the Champion Boat and Champion Male Angler prizes being immediately donated to the Leukaemia Foundation. Champion Female Angler went to Maddison McGinty, and Champion Junior Angler was Nic Edwards. All up, this was a great first tournament for the SIGFC, with a lot of game fish on the scoreboard, and the heavy tackle tag and release only format proving to be a winning idea for both the club and participants.
Thank you Rick for the report and congrats to all!