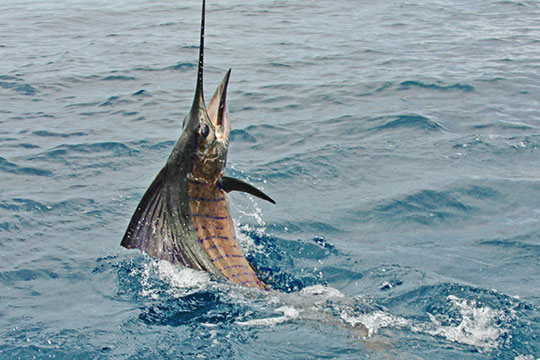 Bits and pieces from all over today and photo above from Weipa Sunday:
There are still a few stripies around at Port Stephens.  Capt. Scotty Thorington on Flying Fisher added another two on Sunday and edging towards that 100 mark for the season (87 now).  Andy Bagnall fishing on Tsunami on Friday added another stripie to his personal talley before heading back out with the team on Frito 1 for the weekend.    Andy tells me the fish were toying with them and they raised four without converting Saturday before the southerly came through.  But they toughed it out to covert a 120kg striped marlin for their first time angler. Sunday, they added another stripe before Andy spent the next four hours hooked up to a 130+kg black marlin on 10kgs before getting the tag in.  They were last heard from drifting 11km off Tomaree Head as darkness fell, having run out of fuel on the way home. Here's hoping you all made it home safely! ;-)
There have also been some nice blues caught off Sydney by Sydney GFC boats in the leadup to the Peter Goadby Memorial Tournament which is on this weekend.  In fact I hear that the blues are fishing pretty good right down the coast with another boat going two from three blues in 500 fathoms east of Kiama.  Band of Brothers Anthony Raco reported 3-2-1 striped marlin off Jervis Bay just a few days after another familiar face at Port Stephens at this time of year, Richie on Dreamcatcher released 7 from 9 stripes….solo!  Awesome stuff!
The weather has not been cooperating too much in SEQ although I hear that there has been the odd blue tagged out wide from the Gold Coast (the GCGFC Blue Marlin Classic Heavy Tackle is on this weekend as well). On the Sunshine Coast Reel Capture added another sailfish on Saturday (the MGFC Billfish Bonanza is on April 23/24).  We've been picking away at the sailfish up here at Weipa again. After a successful week barra fishing down the coast on KEKOA, we picked up a sail for first time angler Tony on Sunday on the return trip to Weipa.  And local guide Josh also released one yesterday (Monday) of Pera Head as well.
* Check out the tournament calendar for more info on the upcoming comps.
The Mooloolaba Game Fishing Club's new website is also up and running now. You can check it out here.