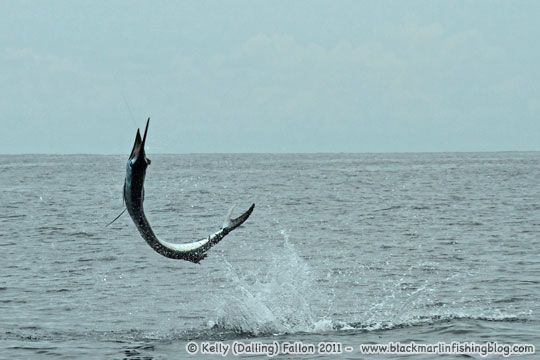 Exmouth GFC President Jeni Gates has given me a teaser report from the recent Australian International Billfish Tournament (AIBT) and Gamex tournaments hosted by the club.
For the AIBT: 67 boats tagged 114 billfish over the three days. The winning team was Aqua while the fly fishing section was won by the team on Weapon. Champion Junior was Michael Wunhym and Champion Angler Kurt Williamson from In Deep.
As for Gamex: 86 boats competed, 53 in the billfish sections and 213 billfish were tagged. The winning team over all was team RazorBack and the Champion Boat (marlin) was team C-Wirthy.
Jeni says there were a lot of black marlin in varying sizes (many small), a few sails and a few big blues raised, hooked and some tagged. And two blue marlin captured at 219kg and 249.9kg. There was also a big one tagged after they fought it for over 11hrs – with plans to gaff it – but it was decided to be too big for them to bring on board. Skipper Eddie Lawler, who has spent some time in Cairns and knows big fish, estimated it at over 350kg.
Meanwhile, Jeff Cooper, Broome GFC's president has given me a bit of a preview of their season ahead.  Jeff reports that the cyclones have been a bit of a nuisance (understatement!) when it comes to getting out and about and looking for the sails. But historically La Nina usually correlates with a bumper season–so they are looking forward to that hopefully coming to fruition in a few months.  At the moment, the really strong Leeuwin current is driving south and a lot of billfish have moved down with it. Jeff says that sails have been caught of Busselton, and marlin have been caught off Margaret River (a place known more for wine growing and surfing than billfish?!)
Broome's Billfish Classic will be held on July 22-30 in 2011.
Thank you to you both!