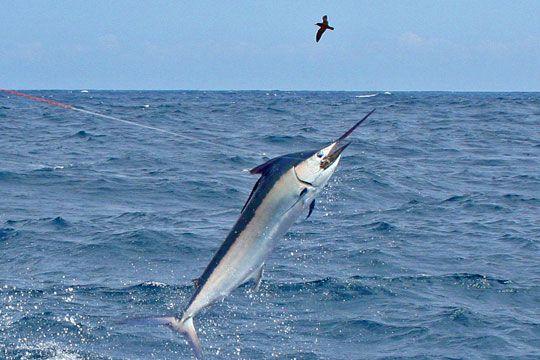 Hearing reports that the fishing at Port Stephens has once again been HOT HOT HOT on the weekend. And boats are back out there today hoping for more.  There was plenty of action on the stripes and blacks mostly around the car park with reports of one boat yesterday catching 10 and most boats getting amongst them with three and four.
Some reports already in: Brad Curtis on the 47 O'Brien Ningaloo is back out today after releasing four Sunday and two on Saturday and Brad tells me, missing several more.  Capt. Tim Dean finished with 7 for the weekend  and fishing a little further north of the carpark on Flying Fisher, Capt. Scotty Thorington brought his season total up to 94.  Andy Bagnall was back on Tsunami for 7-5-5 for stripes plus an add on bronze whaler on Saturday.  Tacklewold Port Stephens' Brent "Deckie" Hancock has filled in the gaps – Brent says he heard  of over 30 fish tagged from the "car park" to down to around 5 miles south where the water temp is perfect around 25 degrees and the bait is stacked as high as he has seen it all season. "Many boats had at least 5 fish with some such as The Force, Ningaloo (as above) and Running Bear tagging approx 7 each. Tim Dean aboard Calypso also tagged a few for his clients. Local boat Diversion managed to tag a least 5 as well."
Brent also reports that Iceman had an interesting battle with a nice mako of approximately 180kgs which nearly took out the long rigger on Born Free on which he was fishing, when it decided to do a 10ft cartwheel! Congratulations to 14 year old Meg Dean (Yes, Capt. Tim Dean's daughter) who tagged a fantastic stripe marlin aboard Born Free yesterday. She did a great job to get the estimated 90kg fish to the boat in quick time on 30lb tackle and in trying conditions.
—-
A bit further south, the Sydney GFC comp also saw some nice fish fought and lost.  The boys on Blue Illusion with Dan Klein on the deck weighed a nice blue of 235kg on 24kg. And Broken Bay boat Rampage weighed another blue at 212kg on 15kg. A more detailed report to come – thanks to Ken!