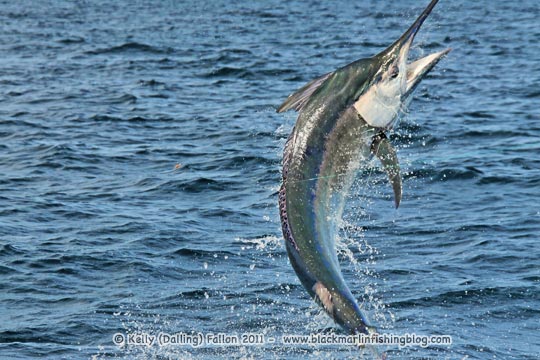 Just a quick sked today because reports are few and far between over a bad weather weekend – plus I'm heading out fishing.
More fun and games with the black marlin in the Gulf this week.  Where a couple of weeks ago there were sails, this week they were almost exclusively black marlin in the 50-80kg range.  Due to the presence of a large, ferocious and relentless razor gang (though plenty of Spanish in the freezer now) we run teasers and pitch a deadbait when they come up. Unfortunately, the gars meant for the sails were a little too small to entice some of the bigger marlin and converting was tough.  On KEKOA we eventually went 1 from 7 all up with a 60kg model released and jumping another couple off.  Yesterday, Ben "Nosto" Bright on Last Cast out of Weipa went one from three for his lady angler who toughed it out for two hours on a 80kg model.  And another local guide Lee Hodgetts, released a sail yesterday as well.
Out of Brisbane, Capt. Ken Brown on Megumi fished Saturday for a 250lb blue marlin for angler Simon Marshall. Unfortunately, the weather does not look too friendly for this coming weekend either (and the MGFC Billfish Bonanza) but boats should be out during the week once again with a few more sailfish and black marlin of various sizes being caught on the inshore grounds.
UECDGKMBG858