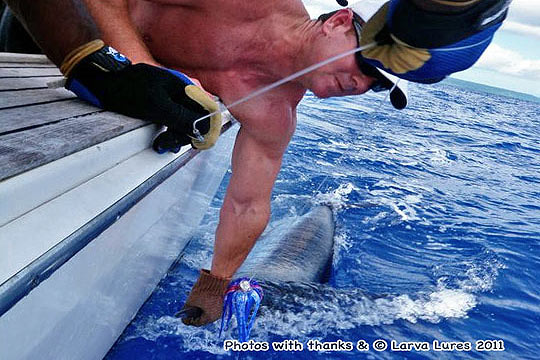 [nggallery id=24]
Gold Coast based Team Larva have just returned from the tropical waters of Vanuatu where they sponsored and competed in  the Grand Hotel and Casino's Vanuatu Marlin Classic.  While they have fished in Vanuatu a number of times from Port Vila to Santo, this was their first time competing in the tournament.  Daniel tells me they enjoy fishing Vanuatu because of the proximity of the drop offs to the harbour – 6-14 miles and you can be in 1000 meters of water – and of course because it's a great lure fishing destination!
Joining Larva Lures' owners Andrew Smits and Daniel Burke on board were Michael Guest and Andrew Ettingshausen (ET) of Escape with ET who filmed the event (it should air over two episodes in October/November – stay tuned for more details when they become available).  Other competitors included anglers from the USA, New Zealand and Australia, mostly local expats who enjoyed sunshine and mostly good conditions throughout the tournament.  While maximum points are available for marlin species – blue, black and striped marlin – the Larva team also managed to release four species of billfish in total including 2 blue marlin, 1 black marlin (the only black of the comp), a sailfish and shortbilll spearfish, all caught on film for the show.
The final standings were: 1st place – Escapade with 3 blue marlin tagged. (It's worth mentioning that all three fish tagged on Escape were caught by female angler Samantha Vale and Russ tells me that Sam's second fish was tagged in less than 2 minutes. Big congrats to Sam, Russ and team!)  2nd place – Team Larva with two blue marlin and one black marlin (as well as the non-scoring sailfish and spearfish). 3rd place – Nevagivup with one tagged blue marlin.  Grant Kilmore on Nevagivup also took home the trophy for largest alternative species with a 25.5kg yellowfin tuna.  ET released the first point scoring billfish of the competition, a blue marlin while Daniel himself released the heaviest fish of the comp, another blue they put at 180kg (400lb).  All fish were caught on 30lb tackle and the average size of the fish was around the 70kg mark (150lbs).
It's been so far so good for Team Larva who placed 2nd in the recent Gold Coast Heavy Tackle comp and now 2nd in the VMC. A win should be just around the corner – thanks Daniel for the great report and pictures.  Look forward to seeing the episodes!
Meanwhile Solitary Island GFC's Rick O'Ferrall has likewise just returned from spending time in Vanuatu, returning just before the comp.  Rick says it was a slow start to the season this year with a lot of smaller fish and wahoo while the leftover conditions from the La Nina summer contributed to water temperatures still reaching 31.5 degrees until mid-late May. But as the days got shorter and the tradewinds strengthened, the water temps dropped below 28.5 and the big fish turned up.
Among the significant releases was an estimated 350kg black (770lb) which is a BIG black marlin for Vanuatu.  Rick tells me he traveled out with the Port Vila GFC guys to replace one of their FADs and he swears that the fish were already circling around the new one before they had even left. Andrew Hibgame's Escapade motored up and hooked a nice 140kg blue marlin just 200 metres away. The fastest working FAD on the planet!  Great stuff – thanks Rick!
Update: Some video from Larva from one of their blue marlin tagged during the VMC.