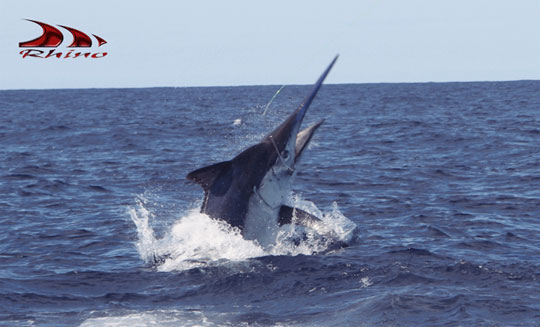 While its still very early in the season and many of the southern based fleet are still on their journeys north, those already here are reporting that the fish have arrived!
Capt. Adam Jordan on Iona 2 is fishing with the Weapon boys from Lake Macquarie on board once again in 2011.  And once again they've started out their trip on a high.  Adam reports one from four yesterday, a fish that he put at a whopping 900lbs for  Dave "Sharpy" Sharp (photo).  Adams says they also jumped off another fish in the 800lb range, had a bite out of a 400lb-er that didn't come out of the clip and had a small 100lb-er up that was trying to eat a 20lb skip bait.
Meanwhile, Capt. Brett Goetze on the newly refitted Reel Chase also fished their first heavy tackle day of the 2011 season at Linden Bank yesterday from their home base of Port Douglas.  Brett says that they had one up early in the day and jumped off a nice one in the afternoon.  They also caught some nice wahoo for their guests. And back down at Houston Light, Capt. Daniel Carlson on Little Audrey reported jumping off another fish in the 300lb range in spectacular weather conditions  Dan says there were also plenty of yellowfin around.
Cairns local fisherman Shan was also taking advantage of the gorgeous weather, out early on his boat Extreme.  Shan says he managed to raise three blacks and pulled out the 80s out for the first time this season. They covered Opal Reef to Linden Bank with the first fish just after sun up squeezing the bait and giving it back. The second fish swam up on the baits but no interest half hour before the afternoon high tide, and then another bait got smashed just after the turn, but unfortunately they pulled the hooks within the first two minutes.
The fish are about!  But Shan says he's back to the drawing board ;-)