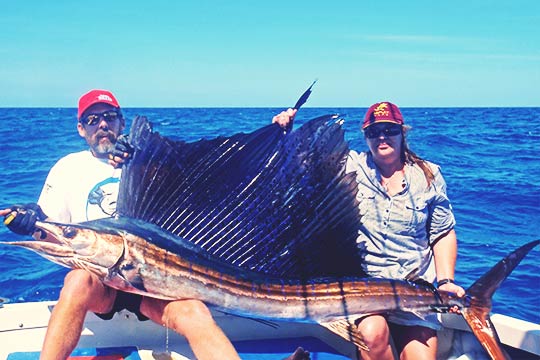 From heavy tackle back to light: Townsville clubbies will be taking advantage of some nicer weather after the tournament later this week to head down to Cape Bowling Green to see what may still turn up (water conditions were more like early-August during the comp and so Townsville Game Fishing Club boats could be light tackle fishing right into October this year).
Michelle Harries and her partner Peter fished the northern grounds Sunday on their 25 Betram Midnight for Michelle's very first sailfish! Michelle has the billfish bug now and tells me they'll be back out there again to find a little black to go with.
The water temperature during the tournament was averaging about 21.6 degrees on the grounds and still needs to get a fair bit warmer before optimal conditions for the juvenile black marlin.  So the Townsville clubbies should hold out hope of fishing late into the season this year.  The fact that after a couple of years absence, that any black marlin were caught at Bowling Green this year gives hope to the Sunshine and Gold Coasts who have likewise been pretty light-on for little blacks over the past couple of years.