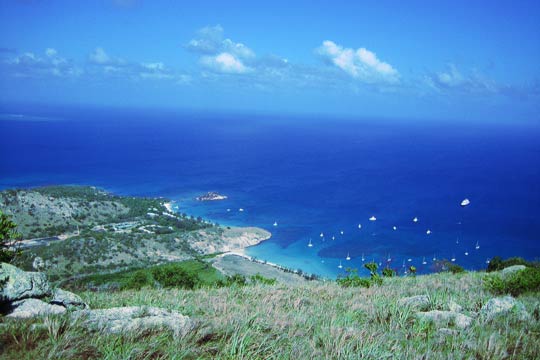 The view of the bays at Lizard Island which come early October, is where you will find a great many of the fleet on anchor.
News came in from Capt. Craig "Brutus" Newbold yesterday that the Lizard Island boat Fascination has kicked off their 2011 heavy tackle season with a 650lb black marlin at Day Reef on Tuesday. We always look forward to hearing how the Island boat is fairing this early in the season because once their seasons get under way, a lot of the fleet will be making a bee-line straight up there.  Also spending the night in the relatively calm waters of the island last night is Garry Holt's Diversion, which he's brought up to the reef for the first time this year.  Garry has reported 3 marlin in 4 days (no size given) in some pretty rough conditions.
Further down the reef, Capt. Damien Collette on Saltaire reported fairly average conditions with the winds up to 30 knots over the weekend. He likewise kicked off his 2011 season this week with a 200lb black at Jenny Louise. Damien also told me that the Nomad boys are heading their way north to the rock,  caught a 300lb-er from one of the dories at Number 8 Ribbon Reef on Monday.
—-
For the marlin fleet: The Lizard Island Marlin Bar is open for meals every night of the week this season (excepting Monday's & Tuesday's) and serving food until late.  If you're heading in and are worried that the kitchen will close before you make it, just give them a yell on your way in and they'll stay open for you.  Brutus says they have a great menu this year.
They are also looking to enhance their memorabilia collection on the walls of the bar.  If you have any any photos from year's at Lizard Island gone, please let me know and I'll pass it along.
And speaking about memorabilia, I came across this travel tale from David Fleming who traveled from the States in 1981 to do some deck work on boats based out of the island. It's a very interesting read and a glimpse of a time on the reef gone by!
—-
More from Townsville: Capt. Tim Richardson took Tradition in a straight line through Cape Bowling Green yesterday morning and came up with an estimated 50kg black marlin within 5 minutes of the baits hitting the water.  Tim said the water temp is still pretty cold at 22 degrees, but wished he had more time to spend there. Alas, they are continuing the trip north and should be into the marlin marina in Cairns on the weekend, ready to start their 2011 season on Tuesday.