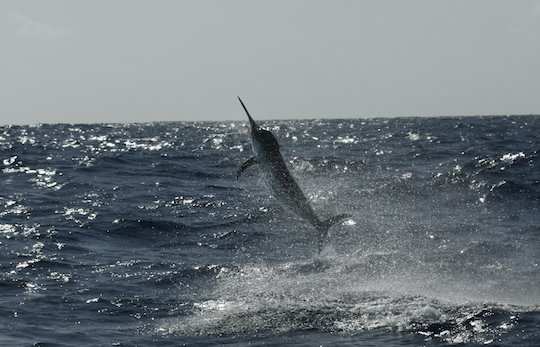 More of the fleet have begun fishing over the past few days while I've been a away (I'm on my way back to Cairns now), so there are a few reports to catch up on–to yesterday's Cairns report on the fly now but there are a few more to come in tomorrow's morning's blog as well.
Capt. Brett Thomas on Gorilla has just returned to Port after 4 days fishing the middle Ribbons.  While Day 1 was slow, they more than made up for it over the next few days finishing with 6 from 8 black marlin including a nice one Capt. Brett estimated at 850lb.  Another fish was put at 450 and the remainder in the 200-300 lb range.
On Monday, Capt. Rob Bonser on Pirate started his HT season with light tackle releasing a 200lb black marlin at Jenny Louise Shoal for WA angler Peter Ray on 30lb!  Rob said the fish (pictured – photo by Gary Ryan) gave Peter a tough time of it before it was eventually tagged after an hour.  Cool Runnings with Capt. Troy Dallman also released a 500lb-er on their first day out of the season to angler Troy Murdoch yesterday. Another great start!
Capt. Dean Beech on Castille III was bait fishing his way up to Innisfail for the start of the Innisfail Billfish Tournament (briefing is tonight) yesterday and released a 350lb-er 10 miles off Wardle Reef.  Capt. Dean said they had the lures in at 1pm and the tag at 1:30!
The Lizard Island boat Fascination was out again yesterday fishing at Number 10.  Brutus says they released one at 300lbs and that everything looks good! They are out again over the weekend and so we hope to hear more in the leadup to the Lizard Island Tournament.
Lastly but not least, 11 year old Julian Thomson is fishing with his Dad Grant on Cjig for the school holidays this week. He jumped two off at Linden Bank (both around the 500lb mark) before snaring a 450lb-er at Number 9 Ribbon the next day. Julian had to work hard for the fish – spending two hours "going off" in the chair!  What a great effort. They eventually ended with 3-2-1 for the day losing two smaller fish around the 300-350lb range.