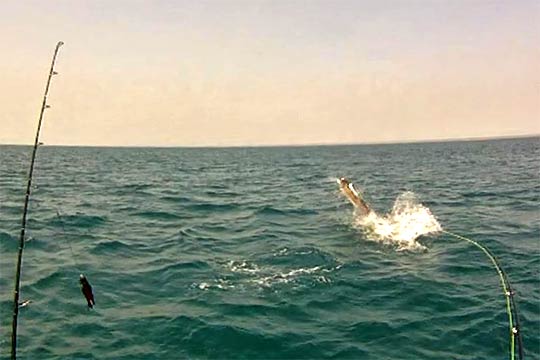 A still from Ben's GoPro hat cam of his marlin on fly – solo
As I'm traveling out to never-never land for a quick trip over the next couple of days, internet connectivity and I may be a rarely meeting commodity–but hopefully if any reports come in, I'll get them up so please do check back.  For those not following the facebook or twitter feeds though, a round up from the weekend:
Cairns: Capt. Adam Jordan on Iona 2 is now off once again on his annual vacay to Bali but had a quick fish at the Bus Stop on the way into Cairns yesterday. Adam said he'd raised 5 marlin by 10:30am including one nice fish, and released one at 150lbs before heading back into Cairns for an early mark.
Weipa: another great effort solo for Capt. Ben "Notso" Bright who took advantage of the wind easing Sunday to get out from Weipa in his Cairns Custom Craft Centre Console Last Cast for a look about.  Ben not only managed to re-fill the fish freezer with some good eating mackerel but also released a sailfish in the process. Ben is also currently working on a personal target of 100 fish on fly (he's up to 36 now by the way) so when another billfish came up on the teaser, once he identified it as a black marlin, he couldn't resist the chance to get it on fly.  After he pulled the teasers in, he whipped a cast out and he was hooked. And then things went crazy. Ben says he's got some great footage on the GoPro once again so we'll just have to wait until he has a chance to edit it.  Less than 25 minutes later, and after a few missed shots (lets remember this is solo!), the tag was in!  Great stuff Ben!
QLD South-East: Capt. Rob "Smithy" Smith has reported a few more billfish showing up with the good weather over the weekend in the South-East.   On the Sunshine Coast Reel Capture released the first billfish of the new season for SGFC with a striped marlin on 8kg. Smithy also reports SPGSFC trailer boat Ramjet released a blue marlin off the Gold Coast on Saturday as well. Meanwhile, the boys from Larva Lures also raised a blue and a striped marlin, before finishing with three good sized dollies.
WA: Josh Bruynzeel's On Strike has been out in his new boat, a 30ft FURY 282 centre console and is certainly getting amongst the fish. On Friday, Josh almost had a marlin slam releasing a stripe and a black but unfortunately not converting a big blue.