There's heaps to cover in today's report so keep reading!
Ribbon Reefs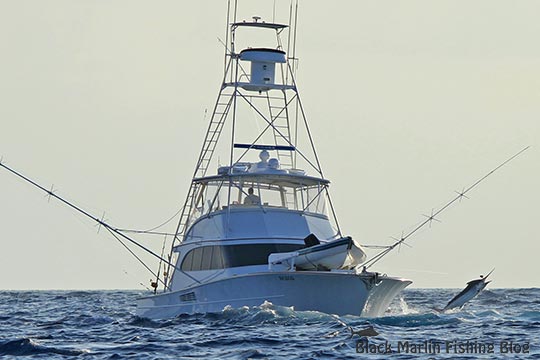 Some days you're on fire, some days you just get to watch others catch fish. Yesterday was one of those days.  While the wind didn't quite make it all the way round to the south–most of the day it was pretty much due east sending the waves directly onto the reef break–it didn't quite make it up as much as expected, so it was another very pleasant day on the water.  On Number 10 Ribbon we saw the beautiful Merritt Mai Tai who has been joining the charter fleet to fish Number 10 for a short while daily for the last few days. Yesterday they put in some extra time and were rewarded with this black marlin (photo above) just after 4pm. This started a bit of a late bite period that saw Capt. Tim on Tradition also release two black marlin on Number 10.
At the top, Capt. Brutus "Craig" Newbold on the Fascination released one at 400lbs.  At the bottom Iona 2 also released two from two and Rhino sent me some more of his great pics.  (Photos below)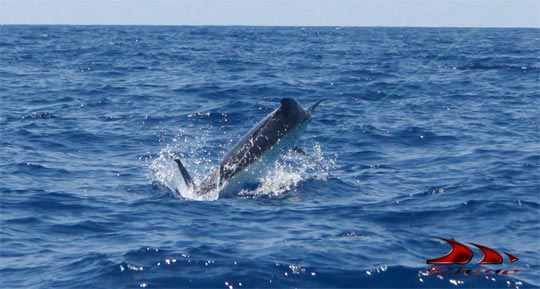 The three wanderers returned from Osprey Reef overnight and I heard from Capt. Dean Beech on Castille III that they had some great fun with the wahoo and dogtooth tuna and they also caught a 500 blue marlin off Vema Reef (photo below)!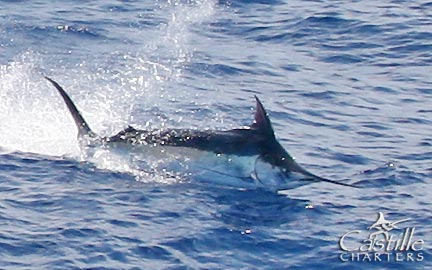 Lizard Island
I also heard from the team on Game Over with some more information about their two big fish from during the Lizard Island tournament. Darren reports that on Day 4 they started fishing at the bottom of Number 10 Ribbon and it wasn't too long before they had a fish up on the skip bait and hooked up to an estimated 1000lb black marlin!  Although they had the leader up twice in the first half hour, just out of reach for a tag shot (and the fish gave a great jumping display), it wasn't to be a short fight for first time angler Mike Savage.  The fight continued until late into the night in close up against the top of Number 9 Ribbon (Darren says close enough that we could have hopped off the boat!) it wasn't to be and they lost the fight after a massive 8 hours and 40 minutes.
On Day 6 they turned that disappointment around with another big girl estimated at 950lb, despite a late start due to some running repairs back in Cooktown which didn't see them start fishing until after 2pm. This one took the stinger bait at about just before 5 o'clock and was tagged successfully, a first black marlin for the same angler Mike, and a much shorter fight at 45mins.  Congrats guys!
Gold Coast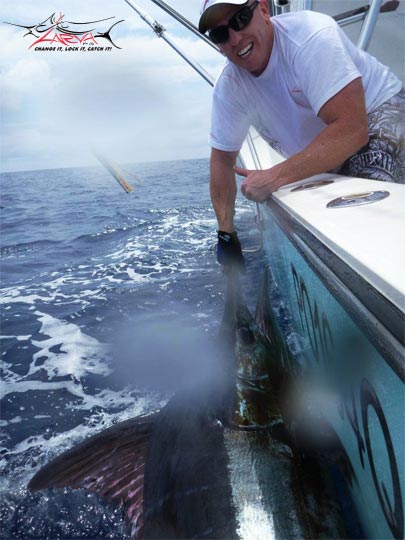 There's definitely something about blue marlin on the Gold Coast this year.  The boys from Larva Lures were out again yesterday on their 35ft Carolina Classic Larva. And once again they were hooked up on a double header by 8am, the second lure being piled upon while it was being cleared!  Unfortunately as blues do, they both pulled hooks after a short fight.  2 hours later the short corner was crunched and they were on again this time releasing the blue marlin, after a beautiful display for the cameras, after 30 minutes.  The lures of choice, 15″ Larva Malekula Melt in Rainbow fusion & Eclipse skirts.
Weipa
More gulf marlin news from Ben "Notso" Bright who steered Last Cast out again yesterday for the first time since the last report.  Ben says they had two bites yesterday and tagged another 15kg black.  On the way in, he put out a mackerel lure to catch some dinner.  Just two minutes later he marked a big fish on the sounder and a marlin ate the rapala.  For an hour they battled the fish he put at about 100kg with just 6 feet of 55lb leader and Ben says he actually got hold of it for a brief moment, but eventually they pulled the hook (it was hooked in the top of the head!)  Pics to come soon!