This is a good one and well worth reading all the way to the bottom!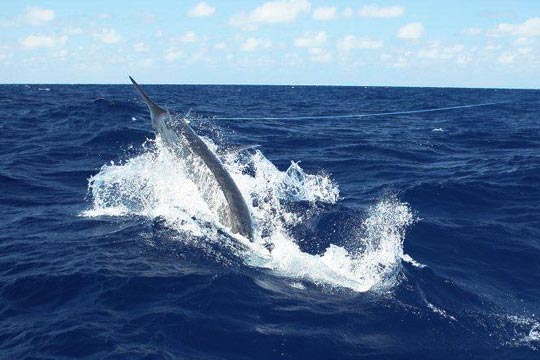 800lb-er on Mistress for Johnno
It is looking promising again with a number of big black marlin reported along the reef yesterday, starting with Barry Alty's Mistress who are fishing the Yorkey's Knob Makaira Bullfight this weekend. Barry says they tagged one for Johnno at 800lb (photo above) and they then spent 2 hours with 75lbs of drag on fish that they put at well over 1200lbs.  As Barry says, technically they caught the fish but no tag for the comp as Johnno had the leader 4 times but they couldn't get a tag shot in.  Barry says it was the biggest fish he's seen in his many years on the reef! (They have two hours of footage to go through and we can't wait to see it!)
Capt. Jared Weir's Shaka also had a great day yesterday. Following up on an 800lb black marlin released on Friday, owner John Hendry gave his shoulder another workout yesterday with two fish that they put at 900lb and the second, over the mark!  John sent me another great couple of pics (below).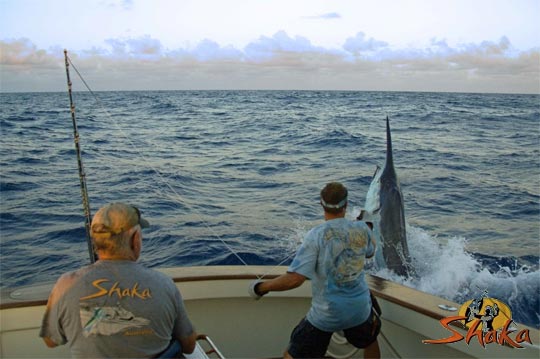 Big 1000lb black marlin for John on Shaka yesterday right on dusk.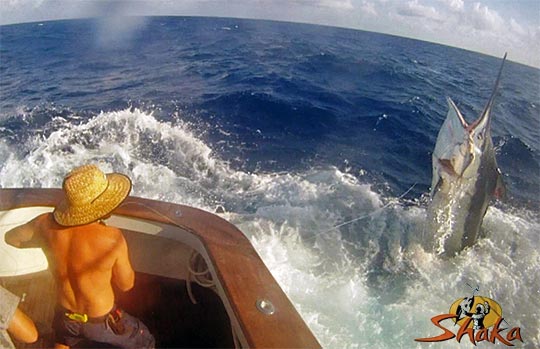 An 800lb black marlin for John on Friday on Shaka
On Number 3 Ribbon, Capt. Craig "Sparra" Denham on Square Bear returned to his fish producing spot and released a fish that he put at 1100lbs from a number raised and missed including another about 800lb!
Also fishing in the lower Ribbons, Capt. Tim Dean on Calypso released a 700lb-er on 50lb stand up for Sultan from Coffs Harbour just after start fishing for the day and raised another big one that wouldn't bite. Fishing nearby, Capt. Tim Richardson on Tradition released a smaller fish and raised another.
It was also good to see a couple of the private boats getting in on the action.  Capt. Simon Carosi on Brilliant Company released two big fish at Trinity Opening that he put at 500 and 950lbs!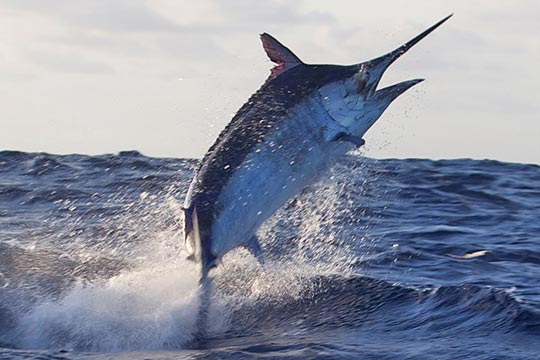 A solid 700lb black marlin for Diversion
Another private boat, this time Garry Holt's Diversion likewise released this cracker of a 700lb-er. They've put together a video clip on Youtube that's well worth the watch.  Garry tells me they were fishing off Jenny Louise Shoal. I also heard they fought another big fish the day before losing it after 2.5 hours that would have been around the mark.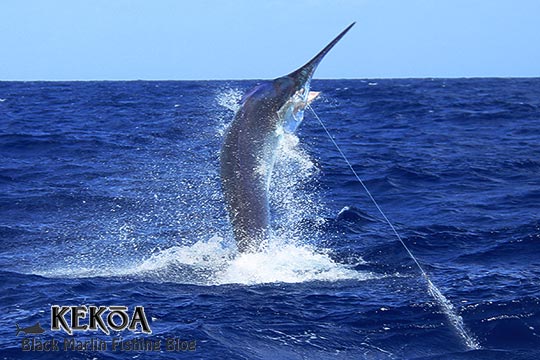 A 750lb black marlin for Jason on KEKOA
Up the top at Number 10 Ribbon, on KEKOA we enjoyed a more action packed day raising four and releasing a fat 750lb-er (above) for Jason and jumping off another fish that Capt. Luke put at 900lbs.
And I also heard from Jude that Bill Collector realised a smaller black on Opal Ridge yesterday as well. Thanks Jude!
—-
Text Messages: I don't have any phone service so if you've sent me a report via text message, I apologise as I haven't seen it yet!
—-
Halloween at the Marlin Bar (Lizard Island)
Peter tells me the marlin bar will be open to all for the annual Halloween Party on Monday 31st October from 5pm.  All are welcome. Get your costumes on!!