Another few big black marlin were caught on the reef on Sunday starting with one right on the mark for Capt. Ian "Wobbles" Ford and the boys on Hot Shot down at Euston Light. What a great end to the trip!  They are back out and at it again tomorrow.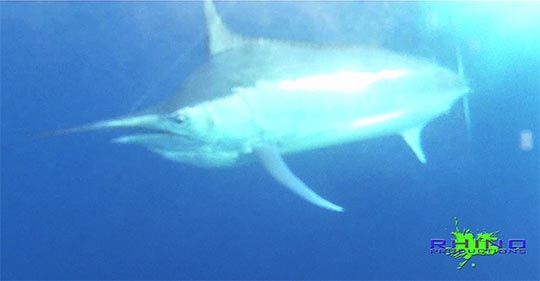 Also fishing to the south at Jenny Louise Shoal, Capt. Adam Jordan on Iona 2 had a great day with three fish that they put at 150, 300 and 850lbs!  Rhino sent me this beautiful underwater shot of the big one as well as a few Youtube video links:
http://www.youtube.com/watch?v=uiusT4J8cVg  Angler Paul Barbato
http://www.youtube.com/watch?v=LOMwEllXz_I  Angler Brad Dick
http://www.youtube.com/watch?v=m0AaMEDIztg Angler Brad Dick 3D
(I hope your 3D glasses have arrived Jo!)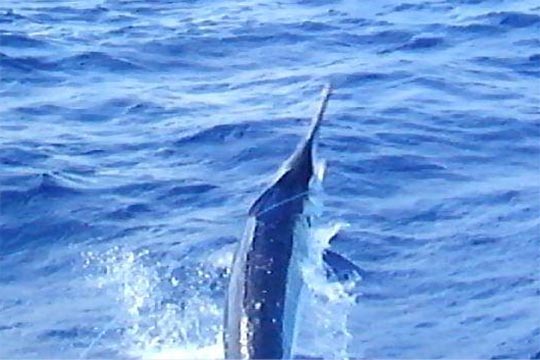 Congratulations to Barry, Brett and Johnno on Mistress who took out the Yorkey's Knob Makaira Bullfight yesterday with two tags. They added another fish at 700lbs yesterday to seal the deal taking home the champions trophy as well as first and last fish.  Barry says that this is their second win for the tournament out of three attempts. Correction: Barry sent me this photo (video still) of the 700lb-er.  He said this is about as far as she came out of the water.
At Linden Bank, 14 year old Jacinta Thomas is back on the reef on Amokura again and is this time looking for a junior world record on 50lb stand up.  They caught two on Saturday at 150 and 250lbs and another yesterday at 500lbs for Jacinta which may have been the record fish, but they've decided to hold out for one bigger.  Good going Jacinta!
Meanwhile at Number 3 Capt. Craig "Sparra" Denham on Square Bear added another two smaller fish yesterday to their trip tally for Rob "The Princess" Marino (200lbs) and Andrew Stasaik(300lbs).  Tara also tells me that it was Ben Stasaik who caught the big fish (1100lbs) on Saturday. Congrats to Ben!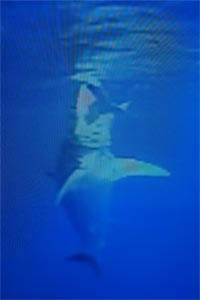 And lastly, another underwater photo from the Towcam camera, this time from Capt. Dean Beech on Castille III who had a mako shark do some fun aerial stuff for them as well. I'm told the footage is great and if the bite shot is any indication, I can't wait to see it!
This is a mobile still shot from the video so that quality isn't great but the picture is awesome!