Not a lot of fish yesterday but a number of big girls caught and plenty more seen.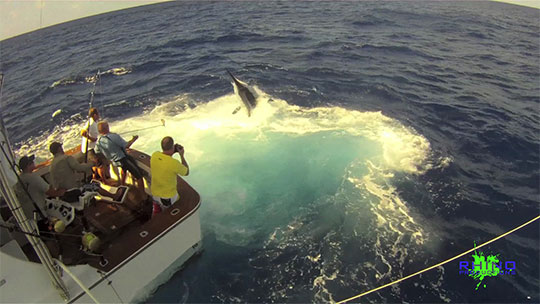 Fishing to the south Capt. Adam Jordan on Iona 2 released this one that they put at over the mark for angler Pete Sutcliffe and had a bite out of another nice big one (above and below a couple of great shots from Rhino and a link to the video – I fixed the links in yesterday's report as well).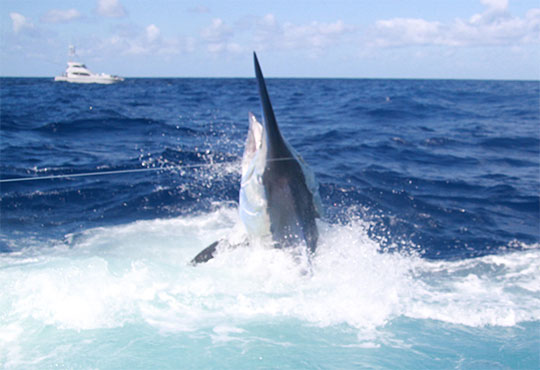 Capt. Ashley Wallis' Kalira also released a nice big fish at Euston Light, that Ashley put at 900lbs for angler Neville.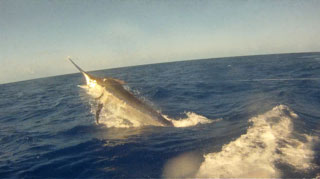 A catch up report from Capt. Brett Thomas' Gorilla from Sunday – Toby sent me this small still from the GoPro of a fish that Brett put at 950lbs for angler Johan off Spur Reef.


Also down the bottom, Capt. Brett Goetze on Reel Chase released one at the 350lb mark and Brett says he marked a lot of fish. And Jacinta finished her trip up on Amokura early with another small one yesterday.
In the middle, Capt. Bobby Jones on Iceman had the pick of the day releasing three fish, two before anyone else had even started fishing, to 700lbs.  Capt. Craig "Sparra" Denham on Square Bear released another smaller fish for angler Marty Goldstein to end their trip before heading in early on changeover.  Capt. Jared Weir on Shaka put Kevin onto a smaller black (one from three) and Capt. Tim Dean on Calypso also released one (happy birthday for today Capt. Tim!)  Capt. Tim Richardson on Tradition also released one from three. Tim says that he saw nine fish all up, a lot of tailors and pods together. A good sign for the days to come.


Three shot compilation of the bite of Kevin's fish from John on Shaka
Up the top end, we came along a couple of fish who were clearly more interested in each other than the baits with the big girl all lit up and the smaller male zipping around her back and forth.  And with a couple of missed opportunities late in the day including breaking the line on one, that was it for the top end.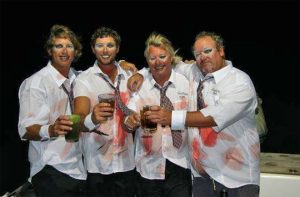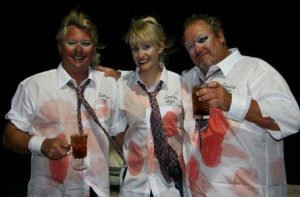 The gang on Castille dressed up in their Halloween glory
I hear it was a good night at the Lizard Island Halloween Party last night and sore heads abound this morning.  I hear that the boats in the vicinity of Number 3 Ribbon may have some sore heads again tomorrow courtesy of a raft up tonight to celebrate a certain someone's birthday and Rodney AKA Rocket is also having a gathering on Saturday night to celebrate his birthday and so boats fishing in the vicinity of Mistress on Saturday, I'm told all are welcome to gather then as well.