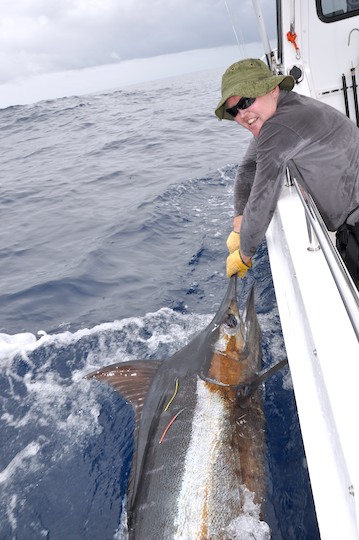 More reports from all the way along the coast indicating a hot summer season of fishing ahead. Off Coffs Harbour, Solitary Islands GFC club boats fishing the club day on Saturday encountered a number of fish. Glen Booth report that new club boat on its first venture offshore —  Hooken-em — caught a mako on a lure, then tag-teamed a solid blue around 180 kilos, and had a bite from a striped just after they re-set the lures. On his boat, Wicked Weasel they tagged a 150 kilo blue in 400 fathoms, then had two bites from stripes on the way home in 60 fathoms. Foreign Exchange tagged a striped in 120 fathoms, Steakout caught a yellowfin and got cleaned up by a big blue in 75 fathoms, and Kikino had four bites from stripes, but they all failed to stick. Glen says most of the activity is along the shelf line or shallower and it's been this way for a few weeks now. Certainly saves on fuel! Thanks Glen for the report and pics!
Down off Port Stephens, Gary Ryan on his boat Ben My Chree reports three striped marlin on lures fishing the Car Park.  Gary said it was a day for the girls with Annie O'Leary and Trudy Curley on the rods.
Little black marlin have been also seen on both the Sunshine and the Gold Coasts. No doubt more reports will come in.
Meanwhile also back home on the Gold Coast but yet to get out water, Barry Alty's sent me his season recap from on board Mistress. You can read the full recap here. Barry says they finished their season with 35 fish for 42 days fished including three over 1000lbs!