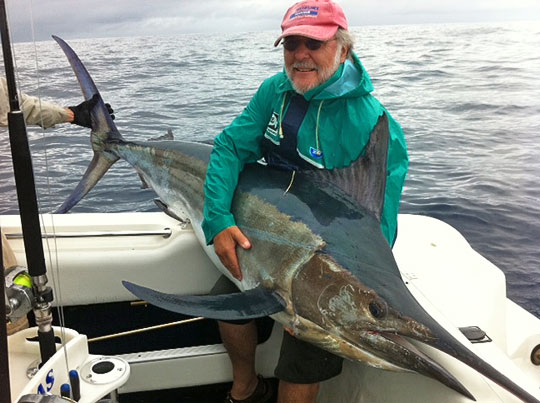 On the Sunshine Coast, the Sunshine Coast GFC's Tony Cross sent me this picture of Russell Wright and his very first black marlin caught on Saturday on Out Quoting, which was also the first black marlin caught at the 8 mile off Mooloolaba for the season. Its been a slow start, but maybe things will be taking off now. Tony said this fish was caught in 42m of water on a skipping gar off a small school of pillies. On Sunday, they found some good yak schools and raised another which spat the bait (and potentially had a bite out of another on the bait jig).
While reports indicate some of the smaller blacks showing up on the Gold Coast as well, the blue marlin fishing remains too good to turn down. Mistress fished its first day yesterday since returning home to the Gold Coast from the northern black marlin season 2 blue marlin at 200 and 325lbs. Barry said they also boated two yellowfin around the 40kg mark.
Also, a blast from the past: Moose sent me this footage from an old Toohey's commercial that is well worth the share. It was filmed up north with Rex Mossop, the angler in the chair.  You can see Brazakka coming down from the tower (in the white singlet) towards the end. Moose said they didn't actually catch anything of the day fishing so the fish footage is a bit of stock footage and a mash-up from different fish.
Feel like a Toohey's now…!