It seems like the summer holiday season of fishing has well and truly kicked off now with marlin reported all the way down the coast over the weekend.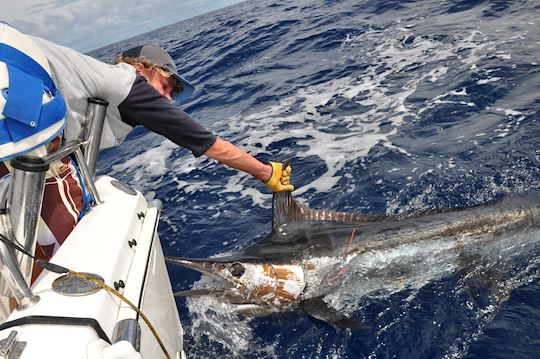 Blue marlin released on Wicked Weasel yesterday
On the Gold Coast, Vince on Barco tells me his anglers are in re-training after a less-than-ideal conversion rate on the blue marlin yesterday, 8-5-2. Vince says all the fish were seen and all were blue marlin. Don't worry Vince, we all have those days but its great to hear there are still so many around! Another Gold Coast GFC boat Addixion fishing light tackle off Kirra also released an estimated 80kg striped marlin on 8kg line. Chad says they fought the fish for two hours to get the tag in and took home a couple of dollies as well.
Off Coffs Harbour, the Solitary Islands GFC boats got in on the action once again. Glen reports that on his boat, Wicked Weasel, they released a 110g blue marlin from three bites while The Edgepulled off a double-header of blues. A great effort from a trailerboat with only two people on-board! They also got a 18kg wahoo.

But top boat of the day was Triton who went three from four — two blues and a 100kg striped marlin. They then went inshore in search of a black looking for a slam for the day and hooked a billfish, but the species couldn't be determined before it fell off! (Thanks Glen for the photo at top.)

Off Port Stephens and Sydney boats are likewise enjoying the early start to the season with fish being seen all the way along. Darren Lewis was at the helm of Anarchy on Saturday and released two stripies from a double header on 6kg. Darren says that one of the fish was in the 70kg range. Meanwhile Rod Findlay and boys on Murrifin also released two from two yesterday, a striped marlin as well as a 120kg blue marlin. Another boat fishing off Broken Bay in 130 fathoms yesterday, Shakara, also switched and tagged a 80kg striped marlin to angler Jay Anderson. Congrats Jay and thanks for the report!
And David also sent me a report of Port Hacking GFC boat Time To Tango fishing on the weekend who released a 100KG black marlin in 160 fathoms off Port Hacking to Angler Rob Connellan.
I'll add in any additional reports as they come in. If you have a report from the weekend, please send it in to me at info@blackmarlinfishingblog.com.