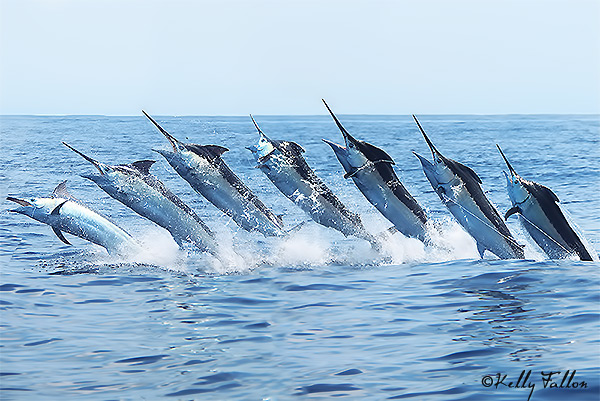 Captured: Inspired by a photo sequence by Scott Kerrigan in the latest issue of Marlin magazine. I thought I would have a go at one myself. This is one of our black marlin released during the Cairns black marlin season on Number 5 Ribbon Reef in mid-October.
It's tournament time with two big comps kicking off today in NSW, the Central Coast BlueWater Classic and the Port Macquarie Golden Lure Tournament.  Steve tells me they have 27 boats lining up for the 2012 BlueWater Legal Golden Lure including a few from far and wide (including a team from Geelong!) Good luck to all competing!
The marlin fishing off Port Stephens continues and it's great to hear such a good bite from so early this year. Many boats are reporting one and two fish days but a great result for Pelagic who went 4 from 4. Gary tells me they included a first marlin for Marty O'Leary from WA and a 90kg stripe for Gary on a spinning rod which he said was a real buzz. Meanwhile Capt. Adam Jordan on Iona 2 finished up his trip on Thursday adding another two from five (4 stripes and a blue – video is here). Adam says they raised a total of 21 fish in the three days (all striped marlin and two blue marlin)! Great stuff!
There have also been some long fights. Katie Lee and the team on Gunrunner, fresh off her recent 86.8 kg on 6kg pending Australian record, spent three hours Thursday hooked up to another potential on 3kg before the line parted ways.  And Daniel tells me on Gale Force his younger sister also lost her first marlin after a 3 hour fight on 15kg.  Daniel says unfortunately none of their usual tricks would bring the fish up and they lost it on the trace!
Further south, an update from Capt. Ryan Clapp on the Ultimate fishing out of Batemans Bay.  Ryan says the marlin fishing has been pretty awesome down there over the last week and a half.  He raised 5 Thursday with 3 bites, and 3 each on the days before that.  Typically, the fish are eating a little funny early in the season so the conversion rate isn't great but it will improve. Ryan also tells me that private boat Mr. Hooker down in Bermagui has tagged 9 fish for his past 3 trips on the water! Ryan sent me this photo at bottom of one of his recent striped marlin which came on board for a quick snap.  (Ryan says to check out the scar on his head that was healing, he's not sure what could of done that but he swim of great when he went back over the side.)
Back up on the Gold Coast, the blue bite continues out wide and the local club boat will take advantage of the great conditions this weekend to get out amongst them.  In the last two days fishing, Barry Alty's Mistress have released 1 from 2 and 2 from 2 respectively.
Meanwhile, Mr. Consistent, Capt. Ken Brown on Megumi also released two in the past two days. On Thursday fishing north-east of Cape Moreton he released 250lb blue and had 2 other lazy shots while Friday added another one at 400lbs in the same area. Ken says that seems to the the average up there – one from two each day.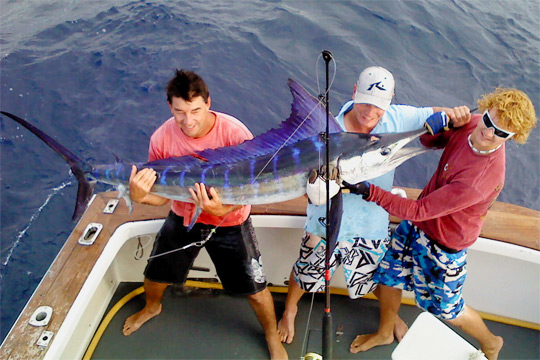 Striped marlin on the Ultimate this week.