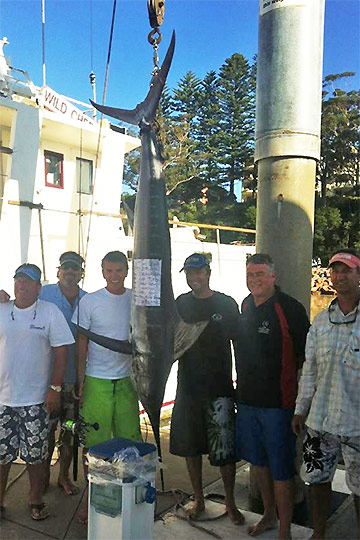 Record Chase in Port Stephens: Garry Holt tells me that after successfully getting the Australian 4kg striped marlin record earlier in 2010 (82.3kg on 4kg), son James added the 3kg record to his collection on December 31 (pending above) with a 60.9kg striped marlin. Both fish qualify as 20:1 fish; the 4kg fishing making James the first on record in the country to join the 20:1 club for marlin.

This week they are chasing the 2kg record.  Dean Bultler was on board for the 3kg record and this week Capt. Tim Dean also joins the team on Diversion and they nearly succeeded yesterday.  They also attempted to switch a blue estimated at 160kg on 3kg line.  Garry says they have some fantastic footage of the 2kg attempt yesterday. They are out again today to try again — good luck to all!

Meanwhile, Capt. Adam Jordan on Iona 2 tells me it was a quieter day on the water yesterday with just the one fish. But they are already out there and into it today with 1 from 3 already this morning!  View the footage from yesterday from Rhino here.
Back on the Gold Coast, the Morley brothers Steve and Andrew fished the Tweed Canyons for 15 dollies for the day (!!) with 13 tagged and two for the table as well as a little blue marlin at 140kg.  They also hooked and lost a bigger blue. I also saw that Peter Pakula also released a blue yesterday that he put at 650lbs.  Nice to see some more big fish out there!
Spending a couple of weeks on the Sunshine Coast with Megumi, Capt. Ken Brown fished the Noosa Canyon's yesterday for 1 from 2 blue marlin. Ken says it was the industry standard size for the area about 250-300lbs.
A Coffs Harbour catch up report from fishing on Monday: Rick tells me that after the blow over the New Year, Solitary Islands GFC club boats made it out on Monday and were greeted by some sensational conditions. And while some boats found a sweet spot, others couldn't get a strike. Foreign Exchange found a big area of surface bait and raised three fish on the one spot, including a blue marlin that took the look corner lure in a vertical leap before falling off.  They finished the day with three blue marlin, all around the 90kg mark with one caught in only 60 fathoms. Two fish for angler David Poutler and one for Ib Mortensen.  Rick tells me they also raised 5 little blacks mixed in with the blues but alas did not want to eat the big blue marlin lures.  Still, three fish is a great result!
From Port Macquarie in the lead up to the Golden Lure Tournament which starts this weekend:  Steve tells me that a few boats ventured out on Sunday for a bit of a pre-fish.  The water temp is a solid 24+ and cobalt blue but only three fish were raised.  Me & Dad released an estimated 200kg blue and Purple Haze fought a black marlin on 8kg which was unfortunately lost. Good luck to all the boats competing this weekend!