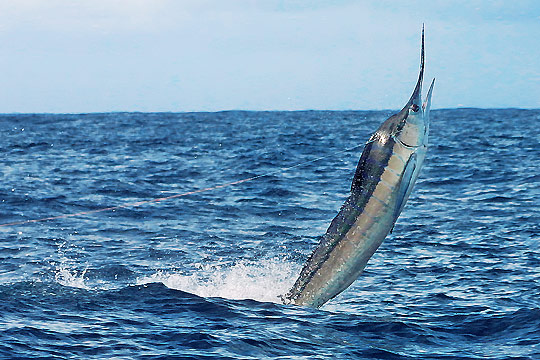 If you've been watching the FB feed over the holidays you'll know that the reports from Port Stephens have been coming in since before Christmas. Rob Danckert reported that Blue Illusion fished Sydney up to Port Stephens on Christmas Eve for a 5.3.3.  Two striped marlin at 70kg and 30kg as well as a 150kg blue marlin. They followed up the next day with another stripe for Christmas.
Yesterday, welcoming the New Year on board Iona 2, Capt. Adam Jordan with guests from the US finished with 3 from 10 striped marlin and one blue marlin.  Adam says they also  jumped off two double headers at the back of the boat, making for plenty of excitement. Although the weather is not playing too nice, they are fishing two more days before heading up to Port Macquarie for the Golden Lure Tournament on the weekend.  (Rhino's youtube clip is at bottom – thanks Rhino!)
Also fishing off Swansea yesterday, Rick tells me that he and Capt. Dave on Addiction put two novice marlin fisherman Johno and Clay onto their first fish each with a striped marlin each in the 90-95kg range. Rick says the smiles were ear to ear and that he also heard of a number of other boats finding the fish including a few some nice blues.
Daniel tells me that the fishing over the New Year period has also been good off Sydney and Broken Bay.   Gale Force tagged one from two striped marlin in 30 fathoms on a social afternoon out off Broken Bay. Daniel says it was a family affair with his mother even having a go backing down on the fish.  Go Mrs. Kirby!
On the Gold Coast, its been another quiet summer for the little black marlin with just the few reported (although the blues are more than making up for it). Capt. Ross McCubbin on Lucky Strike one of the few reporting success with an estimate 80kg black in 80m just before the New Year. Ross says there was plenty of bait and beside the marlin they took home 3 dollies up to 15kg before they were chased in early by the storm.
And the blue marlin run continues out wide with Barry Alty's Mistress adding another to their season tally yesterday. And Steve also tells me that Surfers Paradise GSFC boats Murphy's Law and Sea Eagle went 1-1-1 blue marlin and a few dollies, and 2-2-1  blue marlin respectively yesterday as well.
And back down at Bermagui, Capt. Dave Cassar on Slammer reported his first day out of the season on New Year's Eve resulted in a 120kg striped (cracking way to end 2011!) and Capt. Ian "Wobbles" Ford's Hot Shot tells me that the fish has been pretty good since with most boats getting 4 or 5 bites a day, mostly from the striped marlin although there are the odd blue around as well.  They released a nice blue around the 600lb mark a couple of days ago and will be fishing pretty solidly all the way through January. Looking forward to hearing how they go!